Syndicated For 25 Years, Still A Hit Locally But Not As Popular As It Once Was
One of Indy's most successful exports celebrated a landmark last week… "The Bob & Tom Show" began its 25th year in syndication and now has over 100 affiliated stations, mostly in small and midsize markets. 
The show first signed on WFBQ in 1983, and became an almost immediate hit with listeners for the show's comedy routines and skits as well as interviews of local and national celebrities.  Over the next decade, "Bob & Tom" enjoyed a run of local popularity that would be hard to overstate. 
Utilizing a large on-air cast, the show's cultural influence on Indianapolis was palpable as office water cooler type conversation often was about outrageous jokes or benchmarks segments like a parody of Richard Nixon "Dicks Picks", "TC" the fictitious traffic reporter, and "Mr. Obvious" to name a few.
The show dominated audience ratings, influenced many others in local radio as highlighted in a prior post, and Central Indiana residents felt like we had something special and unique to Indy.  That changed in 1995 as other stations began carrying the show.  
Today syndication is handled by Westwood One, stations pay a fee to air the show and in return local stations get 18 minutes each hour to do with what they like.  Affiliates, including flagship 94.7 FM in Indy, intersperse local traffic, news, weather and sports into those slots but also sell ads.  All this, as well as the following audience figures, according to an IBJ report in 2018.
According to Nielsen Media Research, "The Bob & Tom Show" reaches 2.5 million listeners each week nationwide making it one of the more popular national programs in the country. However its local audience here, while still substantial, has shrunk from its heyday a decade or more ago.
In the Indianapolis Designated Market Area—or DMA—the show registered 24,400 listeners (12 years old and up) on the average quarter hour in the fall of 2010, according to Nielsen. That's essentially how many people were tuned into the show at any one time. During the most recent survey period, the show on WFBQ has 12,400 listeners.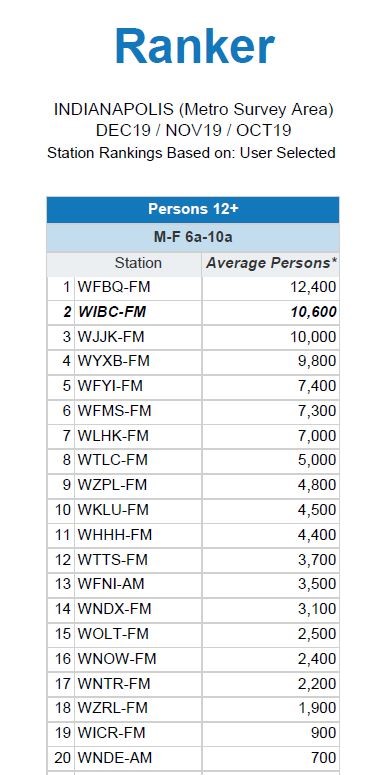 Several factors have contributed to the Indy audience drop off.  Some say the show isn't the same without founding member Bob Kevoian who retired 4 years ago.  Others lament a lack of local discussions as the show must now appeal to a broad geography.  And younger listeners often say the show doesn't appeal to them.
Still, the show remains the market's top morning show against the broad demographic Persons 12+ as noted in the above graph. Its longevity is impressive. And consider this – "The Bob & Tom Show" has more weekly nationwide listeners than metro Indy has people. See what I mean about being a top export! J
Congrats to "The Bob & Tom Show".