Local Blackout Remains Imminent For Indy 500
NBC is the new television network partner for the Indy Racing League and this weekend's qualifying for the Indy 500 brings on more change from tradition at the Indianapolis Motor Speedway.
Previously, ABC and ESPN had been broadcasting the Indianapolis 500 Mile Race and Qualifications since 1965.
Now thanks to changes instituted by the peacock network, a single day of Quals will host the most exciting parts of the weekend.  NBC will present the heartbreak of Bump Day and the elation of the Fast Nine Shootout (a.k.a. the race for the Pole position) from noon-3 p.m. on Sunday. Saturday sets the rest of the field of drivers.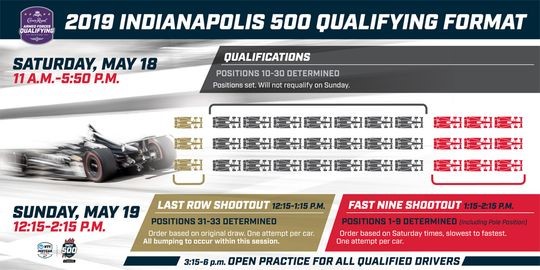 Live coverage both days will be broadcast on WTHR-13 and WFNI-107.5/1070 The Fan.
NBC, with a proven record of producing major events like the Olympics and the Kentucky Derby, has a three year agreement with IMS and has vowed to increase promotion.  Execs say they're focusing on the tradition and pageantry of the event. They plan to market it in similar ways that NBC has marketed the Kentucky Derby.
While ESPN and ABC dedicated less and less resources to the event, NBC is "all in" assigning nearly 400 staff members to IMS.  The network will use their A-list announcers to call the race, including Mike Turico to anchor the coverage who spoke with excitement about the possibility of being part of it on WFNI's Dan Dakich Show.
They'll even bring in announcers that are well known around the speedway: Dale Earnhardt Jr. and Danica Patrick will provide reports throughout the broadcast.
The Indy 500 TV coverage on NBC will also not just be limited to the race itself.  Execs say several cut-ins will occur throughout the race highlighting the Snake Pit concert, race traditions, and other interviews.
However even with this expanded NBC commitment, the live local blackout of the Indy 500 will remain in place unless the event sells out as it did in 2016.
"Because of its enormity and the number of spectators on sited (needed) to make it successful, we have to be pretty risk averse in terms of the dynamic of live television and attendance," said Mark Miles, IndyCar CEO and Chairman of the Speedway's parent organization Hulman & Co., told the IndyStar in 2017.
IMS President Doug Boles recently reiterated to the IndyStar that a local TV blackout lift is unlikely.
This means that the radio audience of the "Greatest Spectacle In Racing" is again likely to reach levels that few events can.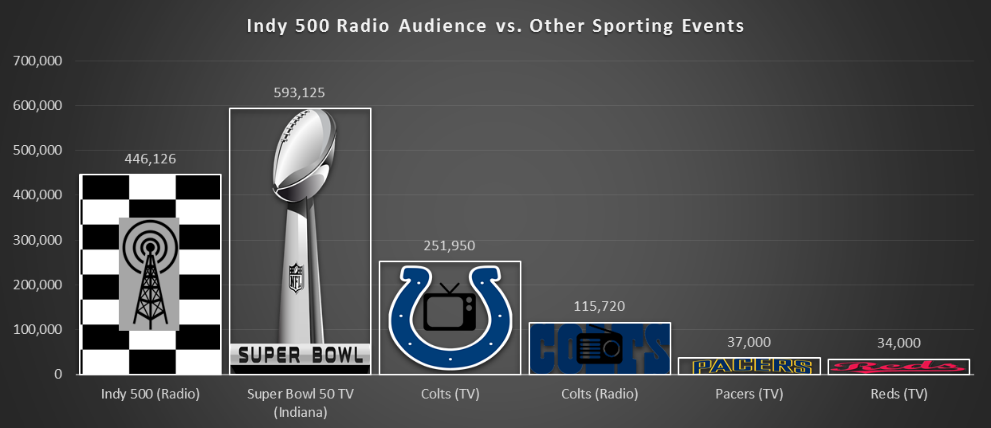 So if you opt to tune in to the exclusive simulcast on WIBC-93.1 or WFNI, you'll be joined by more people than live in Ft. Wayne and Evansville combined.