FCC Ruling On Local NFL Telecasts "Unlikely" To Change Speedway's Policy
Recent action by the Federal Communications Commission impacts viewing pro football on television and brought up questions for other live sporting events local blackout policies.
The FCC has repealed a decades-old rule that prohibited local telecasts of National Football League games that weren't sold out 72 hours prior to kickoff.  This was largely applauded by sports fans everywhere and naturally Hoosiers wondered if the storied Indianapolis 500 Mile Race live TV blackout would be lifted for Central Indiana.
But Indianapolis Motor Speedway President Doug Boles said in a statement responding to the FCC's action it is "unlikely that this will have any direct effect on (continuing) our past practices".  And upon a closer review, it's easy to understand why.
Not Apples-To-Apples
There are a couple of key differences when comparing the NFL and Indianapolis Motor Speedway / Indy 500.
1)    The IMS still relies heavily on event ticket sales.  Gate receipts comprise a significant portion for its percentage of its overall revenue.
And the Indy 500 is just a once-a-year event with approximately 250,000 tickets to sell.

 
The NFL and other top sports leagues play more games in smaller venues (with far fewer tickets to sell per event compared to the IMS), and the leagues also now get the bulk of their revenue from national television contracts.
2)    TV contract revenue is "centralized" with sports leagues, and money dispersed among members.  Examples:
NFL, NBA and MLB split money evenly among all their franchises.
The Big Ten Network equally shares revenue among all schools in the conference.
But the IMS owns the Indy Racing League, of which the Indy 500 is the marquee event on the circuit.
This means the IMS is in control of making the decision on whether or not to blackout a local TV broadcast of the Indy 500.  And their determination is adding live viewership in Central Indiana would not increase the audience enough to make the TV contract increase revenue to the Speedway to offset the drop in ticket sales.
Former Indy Racing League CEO Randy Bernard said a few years back, "in the universe of 120 million TV national viewers, that (the Indianapolis market) is a pretty small segment.  I don't think (adding Indy) would have any impact on the rating, maybe a tenth of a point."  And ratings are the largest factor that determines what television networks will pay in rights fees.
An Expensive Lesson With NASCAR
The Brickyard 400 is an example of how dramatically ticket sales can be hurt when the event being broadcast live in this market.
The annual late summer stock car race at the IMS is part of the NASCAR series, which controls the series TV contract and authorizes live telecasts in Central Indiana.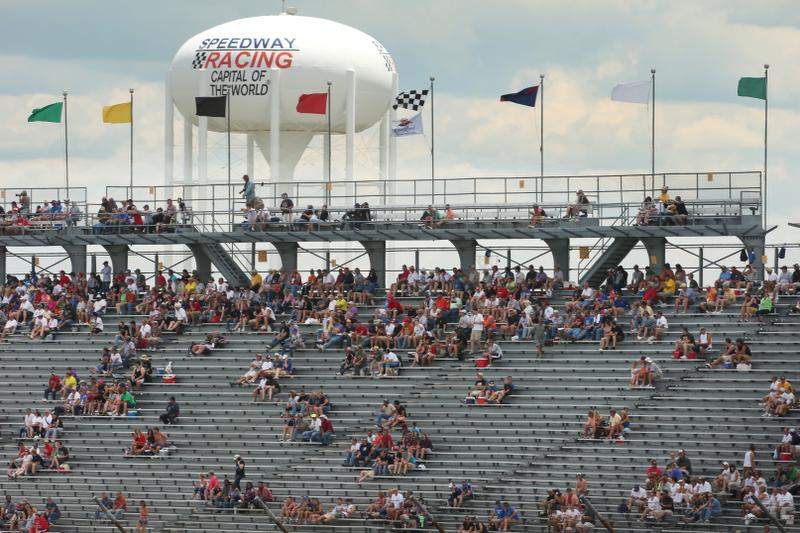 Indianapolis TV ratings for the Brickyard 400 are strong – more than 179,000 households tuned in to recent races according to Nielsen Ratings.
IMS gate receipts for the Brickyard 400, however, have fallen dramatically in recent years!  Though initially a sold out race when it began 20 years ago, attendance estimates now have dipped to 75,000.
Sure there are many factors – including summer mid-day heat to not nearly the tradition as the Indy 500 – that impact the fall off in ticket sales.  But is the live Central Indiana TV broadcast hurting Brickyard 400 attendance?  Of course it is.
So don't expect the IMS to change its Indy 500 local TV blackout policy any time soon.
Track Opens This Week
The 2nd annual Grand Prix of Indianapolis is this Saturday, May 9.
Indy 500 Qualifications – "Pole Day" & "Bump Day" – are May 16 & 17.
The Indianapolis 500 Mile Race is Sunday May 24.
Hear exclusive coverage of each, along with nightly shows Trackside and Talk of Gasoline Alley, on 1070/107.5 THE FAN.