What Sort Of Impact Will This Have On The Local Ad Market?  Probably Not A Lot.
Well, as I blogged this winter when the announcement came that Cumulus had acquired a total of 6 Indy radio stations a format change was inevitable. 
And couple weeks ago, it became official.  But considering there's been so much change at the 93.9 FM dial position locally in recent years, you might have missed the news – or greeted it with a yawn.
Below are excerpts from the recent report of the change by IndyStar's David Lindquist.
Rock music is getting its chance at revolving-door radio frequency 93.9 FM.
93-9X launched Friday as the successor to Top 40 station Energy 93.9.
The change is the latest in a parade of formats at 93.9. Between 1993 and Energy's arrival in 2017, station executives tried easy listening, "urban oldies," smooth jazz, country, '80s hits, contemporary Christian, news/talk, adult contemporary and classic hip-hop.
Billing itself as "Indy's Rock Station," 93-9X played the following acts and songs in succession Saturday morning: Beastie Boys, "(You've Gotta) Fight for Your Right (to Party!)"; Five Finger Death Punch, "Gone Away"; Guns N' Roses, "Knockin' on Heaven's Door"; Seven Mary Three, "Cumbersome"; Nine Inch Nails, "Closer"; Skid Row, "18 and Life"; and Puddle of Mudd, "Blurry."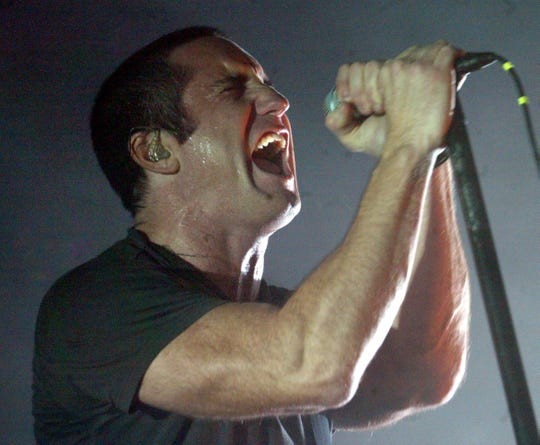 93-9X is owned by Cumulus Media, an Atlanta company that acquired three Indianapolis stations from Philadelphia-based Entercom Communications in February.
WZPL-FM (99.5), the standout among the Entercom stations, plays Top 40 songs similar to what Energy 93.9 listeners heard — clearing the way for Cumulus to switch its approach at 93.9.
Anchored by the "Smiley Morning Show," WZPL ranked No. 6 in audience size according to April rankings by Nielsen Audio. Energy 93.9 was tied at No. 19 with religious station WGNR-FM (97.9).
WJJK-FM (104.5) ranked No. 1 in Nielsen's April rankings, and WFMS-FM (95.5) ranked No. 3. Former Entercom stations 107.9 The Mix and WXNT-AM ranked No. 9 and No. 24, respectively.
"The Bert Show," a morning program that originates in Atlanta, will migrate from Energy 93.9 to 107.9 The Mix.
GRIFF'S ANALYSIS
So if you're wondering what impact will this have on the advertising market, the answer is probably "not a lot".
While the rock genre already accounted for 24% of the M25-54 rating points in the market as noted in blue in the chart below, it's hard to envision a 4th player growing that audience pie.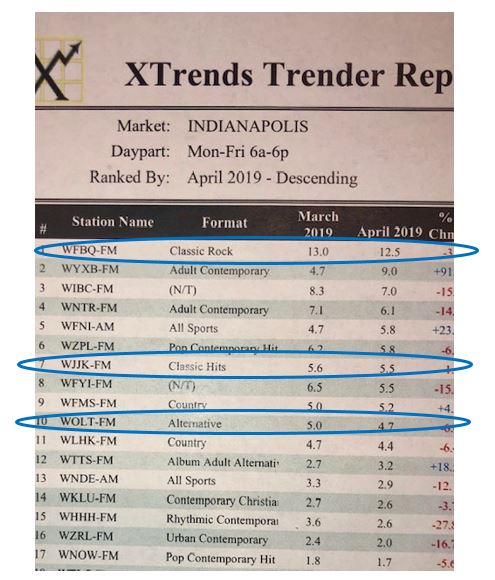 A more interesting thing to watch will be if WNTR slides to being a bit younger by taking on Energy93's former syndicated morning show.
And all this change likely enhances a "bundled" ratings approach to selling, as now Cumulus Indy stations – circled in green below – span a wide range of formats & audience ages, especially now having added a rock station.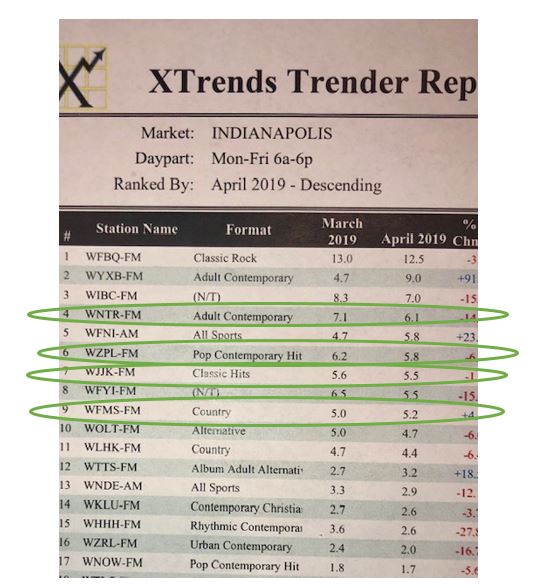 Sure, they might try to position themselves as one-stop-shop for advertisers; but then again, think for a moment just how much in common lifestyle-wise do listeners across these formats really have? 
Again, the answer is probably "not a lot".
Remember radio is a personalized, not a one-size-fits-all medium in attracting listeners.
But we knew this was coming.  I told ya so.