Advertisers' Future Opportunities TBD As Entercom Announces Naptown Exit
Below is a report published by IBJ's Anthony Schoettle last week. 
A major shakeup by Atlanta-based Cumulus Media will have a serious ripple effect in Indianapolis.
As part of the shakeup announced Wednesday (February 13), Cumulus has made a deal to trade WNSH-FM in New York and two stations in Springfield, Massachusetts to Pennsylvania-based Entercom Communications in exchange for three Entercom stations—WZPL-FM 99.5, WNTR-FM 107.9 and WXNT-AM 1430—in Indianapolis.
WZPL is a top 40 station that is often in the top 10 in the market in listening audience. WNTR is an adult contemporary station and WXNT has a talk and sports format.
It's not clear if the deal will impact the format of those stations.
Cumulus officials did not immediately return emails seeking comment. Phone systems at both Cumulus' and Entercom's Indianapolis offices were not functioning Thursday morning. Multiple phones were tried at both locations.
As part of the move, Cumulus also will sell six other radio stations—none in this market— to Educational Media Foundation for a total of $103.5 million in cash.
Cumulus hopes to close the deals during the second quarter, the company said in a press release released late Wednesday.

"These transactions are consistent with our portfolio optimization strategy and both deals are accretive," Cumulus CEO Mary Berner said in a prepared statement. "The Entercom swap significantly bolsters our competitive position in Indianapolis, and the EMF transaction generates substantial cash for debt repayment and investment in other business opportunities."
The acquisition furthers Cumulus' dominant position in the Indianapolis market.
In Indianapolis, Cumulus already owns classic rock station WJJK-FM 104.5 and country station WFMS-FM 95.5, which are consistent top five stations in this market. Both have been No. 1 in recent months. Cumulus also owns WYRG-FM 93.9, a top 40 station.
Entercom bought WZPL, WNTR—formerly WTPI—and WXNT for $73.5 million in 2004 from locally based MyStar Communications, which was owned by local businessmen Michael "Mickey" Maurer and Bob Schloss, who are also shareholders in IBJ Corp., the parent company of the Indianapolis Business Journal.
GRIFF'S ANALYSIS
Three quick observations:
A format change is likely coming.
Cumulus now has 5 FM signals.  Three of them in the closely formatted Adult Contemporary or Top 40 genre (which principally target Women age 25-54). 
Yet their best stations delivering ratings are programmed with Classic Hits (WJJK) and Country (WFMS). 
Look for one of the other 3 stations to "flip" programming & call letters to something that flanks/protects one of the top performing formats.
WZPL are heritage call letters in this market.
Though featuring music to attract Millennials, the 99.5 dial position has had the same brand since 1983 allowing it to appeal to Gen Xers. 
Plus, The Smiley Morning Show performs well and has a loyal following.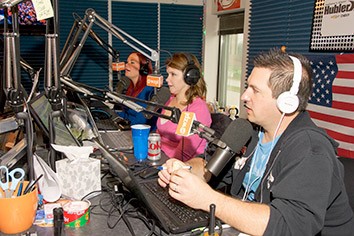 Disclosure – prior to my current employer I worked for MyStar Communications.
Look for any changes or tweaks to involve The Mix or Energy93.9.
Ad agencies are likely to receive ratings bundles, but what about results?
Cumulus will probably package stations and price aggressively to "take money off the table" when firms go to market with advertiser's RFPs. 
However when a sales value proposition is based principally on providing scale, it is harder to leverage unique audiences' interests & tendencies. 
Remember radio is a personalized, not a one-size-fits-all medium in attracting listeners.
So clients seeking results – not just impressions – should be wary of this commodity-oriented pricing & selling strategy.