Key Exits At 'The Bob & Tom Show' Just Part Of Shifting Local Landscape
Below are assembled excerpts from IndyStar's David Lindquist story published this past weekend
Uncertainty now tempers the laughs on 'The Bob & Tom Show' at a time when broadcast radio itself does what it can to weather external challenges… A surprise came in November when 65-year-old co-founder Bob Kevoian announced he would retire at the end of the year.  A shock followed two months later when news director Kristi Lee left the show, saying she planned to pursue "new opportunities."
WFBQ isn't the only Indianapolis station sorting out a new morning reality.
Drive-time parties
About 25 broadcast radio stations battle for Indianapolis listeners, who have choices ranging from NPR to modern rock.
In the past year, two classic hip-hop stations and a country station launched here.  New morning shows emerged at established stations WHHH-FM (96.3) and WNTR-FM (107.9).  The hosts at WNOW-FM (100.9) are the same, but 'Mornings with Kyle and Rachel' has been rebranded as 'Wakin' Up'.
The program on a hot streak of listener relatability… is the 'Smiley Morning Show' at Top 40 station WZPL-FM (99.5).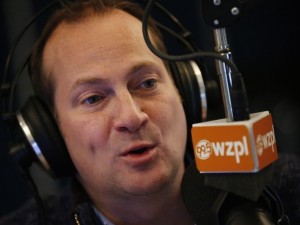 According to Nielsen Audio statistics for 6 to 10 a.m. (during third quarter of 2015), 'Smiley' ranked No. 1 among 18- to 34-year-old listeners… and among 25- to 54-year-old listeners… (there's) virtually a dead heat between 'Bob & Tom' and 'Smiley'.
Similar to the traditional 'Bob & Tom' lineup, the 'Smiley Morning Show' features four on-air cast members: host Dave Smiley plus producer Will Pfaffenberger (founder of the Three Dollar Bill Comedy Co., who writes show jokes and parody songs), "helper" Toni Williams and pop-culture expert Nikki Reed… who excel(s) at banter when listeners phone in.
"We love putting calls on," Smiley said. "It sounds like a little party."
Life After Bob and Kristi?
Is the "morning zoo," the format that made Kevoian and Griswold rich and famous, on the way out?  Are listeners turning to more music or more serious talk or the assortment of sports-themed stations in town?
Industry historian Art Vuolo is known as "radio's best friend," … (observed) chemistry is the key (for morning shows).  "I compare it to love," he said. "You can't say, 'I'm going to love that person.' You either love that person or you don't. You can't force love, and you can't force chemistry."
Tom Taylor, a New York-based journalist who writes a daily newsletter for the radio industry compared the exits of Kevoian and Lee to an NBA team losing two veteran starters.
"You have to regroup and rebalance," Taylor said. "You have to find a new center of gravity. I think the industry will give them that chance, but it's certainly a new chapter for that show."
For this entire story by IndyStar reporter David Lindquist, click here.
**This video is not mobile friendly** 
This video shows Nielsen Audio statistics for 6 to 10 a.m. weekdays during the third quarter of 2015. David Lindquist / IndyStar