Former Emmis Stalwart Inspired Many During His Nearly Two Decade Battle with ALS.
As reported by the IndyStar this weekend, Matt White (finally) died.
Admittedly, I had a hard time keeping emotions in check last week as his passing loomed and the days that followed.  However, I am grateful a dozen current & former co-workers of his gathered in the lobby of our HQ to Facetime goodbye to someone who positively influenced so many! 🙂 
Matt was a mentor in my formative professional years, and we grew to be close friends in the years since he was paralyzed through several visits and countless email exchanges.
The following is a re-publishing of my post in March 2014.
Matt White, Still Going For It
This writing is a bit about radio – the man was an Emmis stalwart for over a dozen years – but it is more about letting go… and going for it!
Matt White worked for my company from within months of his college graduation in 1989 until 2003.  He was a very successful advertising sales person and maybe even more so as a manager.  Matt had a unique way of relating to people and motivating them.  Though it's been over a dozen years since he graced the halls of our Monument Circle offices, his imprint remains strong – Matt hired in to Emmis and molded the young careers of two of our clusters' current top sales performers.
Since 1999, Matt has lived with amyotrophic-lateral-sclerosis; A-L-S or Lou Gehrig's Disease.  He now relies on a ventilator to breathe and the former college athlete's body is long, gaunt twist of skin, atrophied muscle on his skeleton.  And he is in constant risk of falling victim to pneumonia.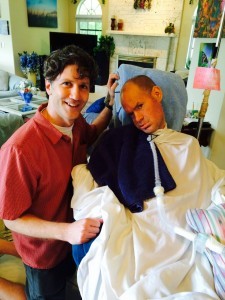 For the second time in a little more than two years, I've recently had the pleasure – more of a blessing, really – to visit with Matt for an afternoon at his home in south Florida.
Matt cannot talk any more.  To communicate with him requires reciting an intricate system of numbers and letters, #1 = A through D, #2 = E through H and so on, in conjunction with his eye movements (two years ago, it was blinking and today the disease has reduced him to simply his eyeballs moving side-to-side).
Without experiencing it, you'd not think of this as much of a way to live.  Originally I assumed, for whatever reason, that he'd not have questions because it'd be too difficult… so I was startled at the ordinary, "conversational" tone at the outset of my first visit.  One of the first exchanges two years ago went like this:
His wife Shartrina looks in to his eyes and asks if he has a question and says "1"?
Matt blinks.
She asks "A"?
Matt doesn't blink.
She asks "B"?
Matt doesn't blink.
"C"?
No blink.
"D?"
Matt blinks!
This carried on for a minute or so and Shartrina could not tell where it was headed… she repeated the letters he'd confirmed "D-A-K-I"…
At that moment I made eye contact with Matt and for some reason I knew what he was asking!!  I was so excited I almost jumped out of my chair as I said "Dakich?  Dakich!!  Oh, you listen to The Dan Dakich Show on the internet?!?"
Matt blinks.
And I went on to share with him how successful that show is, what Dan is like off-air and other intricacies some like Matt who is both an avid listener and industry professional would enjoy.
This is how my visits with Matt have gone.  They are lots of fun, with the time flying by and truly inspiring experiences!
And why?  Because Matt White has LET GO of what can hold him back.
He LET GO of any frustration of having to eek out communication one text character at a time.
He LET GO of his pride or embarrassment of moments when the only sound in the conversation is his ventilator beeping or hissing… or when his wife or nurse infrequently has to suction his saliva drooling out the side of his mouth… or how even when he was still working he needed visitors to his Q-101 office in Chicago help him zip his pants to use the restroom.
And as he's LET GO of such things which can hold him back, Matt is also GOING FOR IT to live life as full as he can: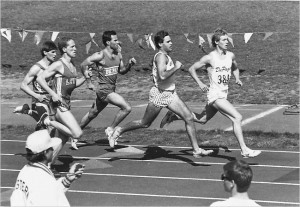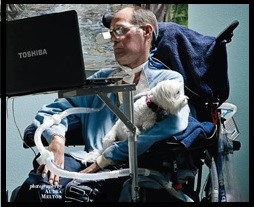 By letting go of what could hold him back and going for it, Matt not only makes things better for himself, he makes things better for those around him (be it Shartrina or visitors like me).
And that is a lesson to remember — to make things better for ourselves, our families and co-workers, and our communities at large… recognize when to LET GO, and when to GO FOR IT!
Thank you, Matt.