A Stalwart Of The Local Sports Scene, MG Announced Goodbye On 1070 The Fan.
This report was originally published Friday by IndyStar's Dana Hunsinger Benbow.
Broadcaster Michael Grady, who grew up on the east side of Indianapolis listening to radio hosts debate the Eric Dickerson days of the Colts and Reggie Miller's dynasty with the Pacers, said Friday he is leaving the "Grady & Big Joe" show on ESPN's The Fan.
"That contract is now up and after some not so easy discussions, it's been decided that now is the time to say goodbye," he said at the start of the show on WFNI-AM (1070) and -FM (107.5). "You all have allowed me to live out a dream. It's been an honor and a privilege to talk, debate and joke with you all these past eight years."
Grady left Indianapolis and moved to New York in October 2017 to be a Brooklyn Nets sideline reporter, but he continued doing his Indy radio show with former Colts player Joe Staysniak. Throughout his career in Indy, Grady had been the Pacers public address announcer and a sports reporter and anchor for WRTV-6.
He said Friday he was living his dream out in Indianapolis, still able to hit the airwaves of his beloved city. In an emotional 20-minute goodbye, he took listeners on his journey.
Radio was like family
His earliest Colts memories as a little boy were going to a Dickerson autograph session with his mom and watching Steve Emtman return a Dan Marino interception 90 yards for a game sealing touchdown.
And, of course, "that magical 'Let er Rip' ride of 1995 and getting there despite No. 79 (Staysniak)," Grady said.
His early Pacers memories were Miller in Madison Square Garden scoring 25 points in the fourth quarter and flashing "the choke sign;" Miller's eight points in nine seconds and reaching the NBA finals in 2000.
Grady would listen with fascination as those games were talked about on the radio and at the bus stop where he waited to get to John Strange Elementary, Stonybrook Middle School and Warren Central High School.
"I always felt like I was a part of the conversation, like they were like family," he said.
At Warren Central, Grady did radio for the school's station and then went to Vincennes University for the broadcasting program. The very first day of class, a professor asked the students what they wanted to do.
"I said very proudly that I wanted to be a broadcast professional in Indianapolis," he said.
Soon, Grady was writing to every radio station in Indianapolis. He landed a job at WIBC working 3-hour shifts on Saturday afternoons as director of pet doctor and cooking shows.
"Look, I wanted to do sports but I grew up listening to WIBC and this was a foot in the door," he said. "So I had to take it."
In 2007, Grady was hired as an executive producer at the station and helped launch 1070 The Fan.
"I was locked in the studio, I grew a James Harden beard, I missed the holidays," he said.
On Jan. 8, 2008, the station debuted with a show hosted by then IndyStar sports columnist Bob Kravitz and Eddie White, who works for the Pacers.
Meanwhile, as the Pacers public address announcer, Grady said he was pinching himself, sitting court side announcing Eastern Conference playoff games and finals.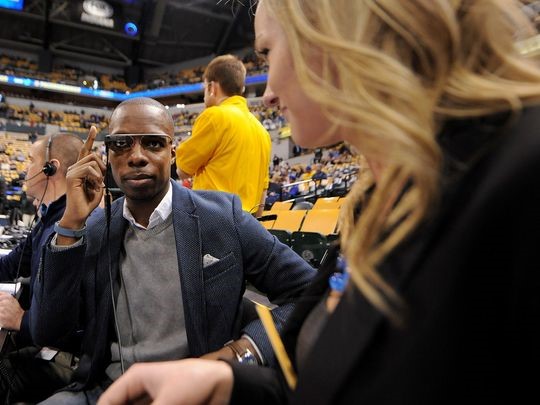 "Wearing that damn velvet yellow jacket," he said. "Radio was still home. I desperately wanted to host a show."
In 2011, he got his wish working with Staysniak on "Grady & Big Joe."
"I've been on this amazing ride with you all these years," he said. "Big Joe, our chemistry developed quickly. You became my brother almost immediately and we have shared some amazing moments on these airwaves these last eight years."
'We're going to miss you'
As guests came on the show Friday, they wished Grady well and became emotional themselves.
Michael Collins, a regular on the show who covers golf for ESPN, tried to joke about it.
"You have me getting all emotional and stuff before I go on TV," he said. "(People are going to wonder), 'Why's Michael Collins, the golf dude, looking like he's crying. How can Tiger Woods' game be that bad?'"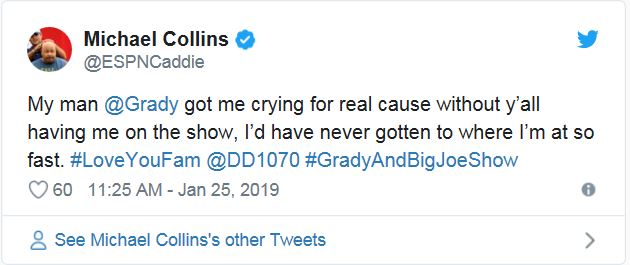 Rick Venturi, former Colts coach and frequent guest on the show, said when he first heard Grady on the radio, he noticed something special about him. There was something about his voice and the way he connected to listeners.
"We're going to miss you," he said. "I'm going to miss you."
Grady told listeners he didn't ever want to leave.
"I desperately wanted to continue this show," he said. "This was and will always be home."
Among Michael Grady's many local honors unnoted in this report include MG being selected to IBJ's prestigious 40 Under 40 list and in 2016 named "Sportscaster of The Year" by the Indiana Sportswriters & Sportscasters Association.
WFNI has selected Jeff Rickard to partner with Big Joe Staysniak weekdays 10am-Noon.