Media Industry Execs Discuss Increased Consumption And Data Gathering During Recent Global Business Forum
Insights into OTT media consumer behavior – and it's measurement – was a highlight of the many sessions at NATPE Miami.
While some may question where local content measurement stands today, and where it is going, there is little doubt that Nielsen is actively moving the needle forward on accurate, dependable data and ratings to supply broadcasters and marketers.
"We are investing millions of dollars in where people consume local content," says Jeff Wender, Managing Director of Local Client Solutions At Nielsen.
This measurement includes the use of PPM technology, expanding this application from radio station exposure and listening occasions to that of TV. This, Wender says, is actively improving the ability of Nielsen to measure both out-of-home and in-home viewing.
At the same time, set-top box (STB) data from Dish Network, DirecTV, Charter Communications and a recently forged partnership with Comcast is vital to providing the full story of who is watching what, and for how long.
"This gives us much more richness and fidelity with that measurement," Wender notes.
As shared in a Tuesday session by SVP/Product Leadership Kelly Abcarian, smartphone, tablet and PC consumption time rapidly increased between 2012 and 2017.
Radio has slightly decreased; while live TV is also down, time-shifted TV viewing increases have softened any consumption loss.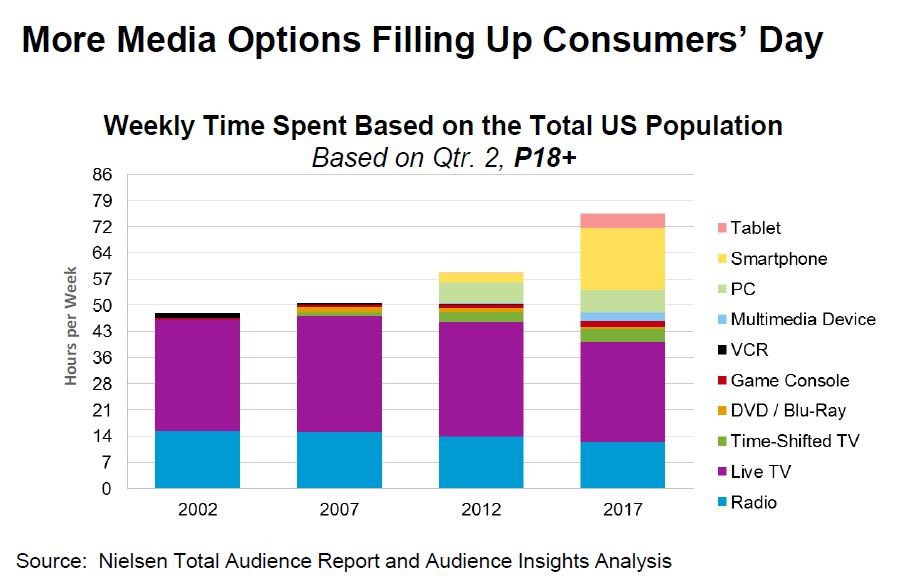 Wender says, "There is no one technology that can measure all of the ways in which consumption takes place." Therefore, the PPM cannot be considered as the exclusive tool for how, when, and where TV programming is viewed.
It explains why YouTubeTV has Nielsen measurement, and an SDK technology embedded in it.
"We call that total audience," Wender says, noting how a local TV station can add viewership on YouTubeTV to its metrics for over-the-air, MVPD and "skinny bundle" viewership.
Adds Abcarian, "Measurement has become one of a 'team sport' than ever before."
In the case of YouTubeTV, they approached Nielsen at the onset of the OTT-turned-skinny bundle's launch.
For local broadcasters, upgraded technology and integration into "skinny bundles" is ensuring they remain actively engaged with their viewers, and vice versa.
This requires a strategy, and some thought into what works best in each DMA.
For Nielsen, it will remain audience-agnostic as it further perfects the way it can track, understand, analyse and interpret the data vital to broadcast TV's present, and future.