All Stations Come Together To Prove The Medium's Power.
Chicagoland radio broadcasters have teamed up several times in the past year for a Radio Roadblock, designed to demonstrate the reach and power of radio.
The idea is simple: at a given time, all 40+ stations across the Chicagoland region play the exact same content.
The first such roadblock on November 14, 2016, was a "Chicago Radio Town Hall," conducted by legendary broadcaster Bill Kurtis and featuring Chicago Mayor Rahm Emanuel. Simulcast live at 6 p.m. and spanning a full half-hour, the unprecedented broadcast was bound to make waves. But how it came together is the fascinating part.
Market managers from CBS, WGN, iHeartRadio and others agreed that to promote the strength of the radio industry, collaboration and pride was paramount. The first big concept that came out of an industry gathering was the roadblock. Conceived by local industry veterans and carried out with the help of the Illinois Broadcasters Association's Radio Broadcasters of Chicagoland (RBC) Committee, the Chicago Radio Drives Real Results roadblock initiative spanned all formats and ownership groups – something rarely, if ever, seen in other industries.
I spoke with Tim Pohlman, Market Manager for CBS Radio in Chicago, about the initiative.
"My personal belief [is that] there's so much more we at the market level can do to promote, to educate, to celebrate the power and strength of radio," said Pohlman.
Pohlman praised the collaboration. "Those of us that operate big groups said 'look, for these things to happen, first we've gotta keep it simple, second, you've gotta put your own personal agenda aside, and you've gotta stretch to make it happen,' and everyone has. It's been really wonderful."
The RBC wasn't finished. Several other roadblocks – this time :60-second spots at 4:29 p.m. – featured larger initiatives speaking to the power and reach of radio, like Wintrust Financial, Chevrolet, and a Bill Kurtis-voiced initiative for Hurricane Harvey relief.
And it's been making a splash outside of Chicago as well. Per Pohlman, Wintrust founder and CEO Ed Wehmer got calls from around the country inquiring about his unique use of radio in a large market – truly a testament to a unique idea that, through the power of radio, has grown exponentially.
Just prior to the Holidays, Chicagoland broadcasters carried out another successful radio roadblock with Bob Rohrman, COO of Bob Rohrman Auto Group, in a :60-second spot about how radio is a primary advertising avenue for reaching customers. "Radio is my biggest advertising expenditure and it works," Rohrman told Inside Radio. "Everybody listens to radio, especially in the car, which makes for a great ride."
Radio Gets Results
What did they prove? People are listening. What might surprise you? A lot of them are younger, aware, and involved listeners.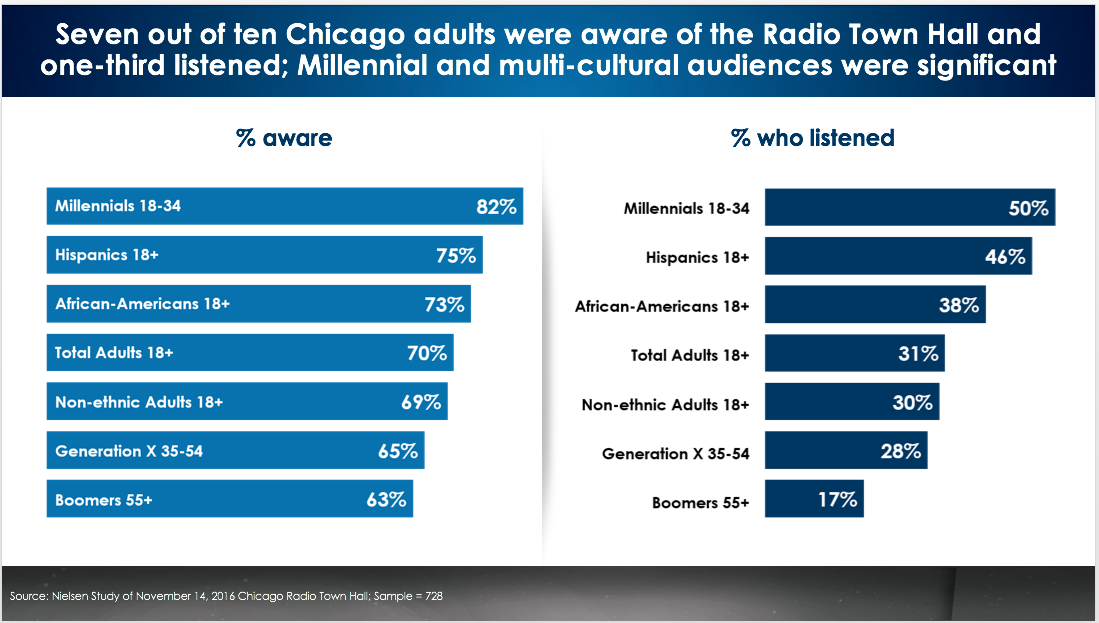 Millennials tended to be more home listeners, which Gen X mostly listened in the car – something important for auto dealers. For the town hall, the story was "appointment listening," especially for Millennials and Gen X: 82% and 72%, respectively, had previously heard radio ads about the radio town hall and tuned in specifically to hear it.
Pohlman has been happy with the story the roadblock initiative has been able to tell. "It shows unity [and] demonstrates the strength of radio. [It shows] how many people on a given Thursday at 4:29 p.m. are in their cars, or at home, or wherever: we've got 'em."