Packed Bankers Life Fieldhouse Expected – Previous Indy February Visits From First Ladies Remembered.
Former First Lady of the United States, Michelle Obama, will speak at Bankers Life Fieldhouse in Indianapolis this Tuesday February 13.
The Women's Fund of Indiana is presenting the event, billed as A Moderated Conversation with Former First Lady, Michelle Obama. Women's Fund board member Allison DeCoudreaux will moderate the event. A former Eli Lilly executive, DeCoudreaux is also the former president of Mills College.
Interested parties have filled the arena fast. As of this writing, only single-seat tickets (at the more expensive $250 level) are left. Women's Fund worked with local charities and grants to distribute 500 free tickets to women and girls who would not otherwise have been able to attend.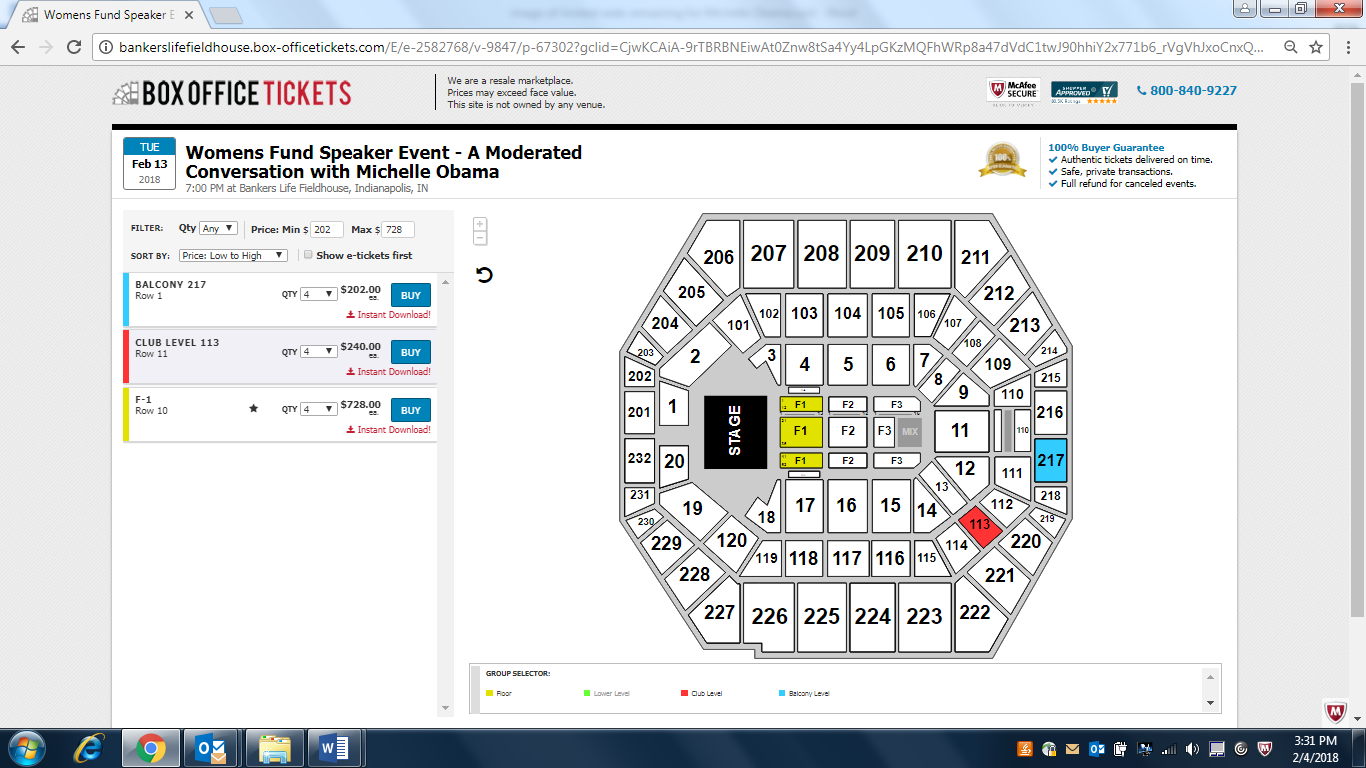 Mrs. Obama's notable initiatives include "Let's Move!", an initiative to eliminate childhood obesity;  "Joining Forces", a veterans support program; "Reach Higher", a program encouraging post-secondary education; and "Let Girls Learn", focused on helping adolescent girls around the world go to school.
Expect security to be tight near the Fieldhouse and downtown that Tuesday. Doors open at 5:30pm, with introductions to begin at 7pm. Mrs. Obama's conversation is expected to last one hour.
Coincidentally, February has been a popular month for First Ladies to visit the state.
Indianapolis most recently had a public visit from a former First Lady in 2014, when Laura Bush (First Lady from 2001-2009) spoke at Butler University in February 2014 as part of the "Celebration of Diversity Distinguished Lecture Series" at Clowes Hall. Bush spoke about her family, volunteering, human rights, time First Lady, and her initiatives for reading and literacy in Texas – fitting for the former librarian.

A sitting First Lady also visited Indianapolis to make a statement to the entire country. With the Gulf War consuming the American conscience in February of 1991, Barbara Bush (First Lady from 1989-1993) made a point of flying commercial, instead of the usual government jet, for a visit to an Indiana veterans' hospital. "I'm not going to be held hostage by this at all," she said, as fears of terrorism and a recession had drastically curtailed commercial air travel.