Longtime Indy Radio Personality A Leader In The Format.
Indianapolis is showing an affinity for yacht rock.
Cover band Yacht Rock Revue plays several times a year at The Vogue in Broad Ripple, and 1070 The FAN's own JMV infrequently makes his appreciation of yacht rock known during his own show.
Most likely you fit in one of these two categories:
you've never heard of yacht rock,
or you have heard of yacht rock but have no idea how to define it.
Longtime Indy radio personality Adam Ritz will see to it that you're educated on the subject with his show, Yacht Rock Radio.
"Yacht rock is a genre of music, a subset of soft rock, the smooth soft rock from the late '70s and early '80s," described Ritz.  "It combines two major factors that make it incredible to listen to on radio: it's smooth and nostalgic.
"Yacht rock is the kind of music a yuppie would listen to on his yacht in 1980…artists like Michael McDonald, Christopher Cross, Kenny Loggins, Ambrosia, Steely Dan, Little River Band, Stephen Bishop, Robbie Dupree, etc."
Yacht rock channels now have a presence on every major streaming service — SiriusXM, Pandora, Amazon, iHeartRadio, Slacker, and iTunes.  But when Ritz first heard the original couple yacht rock streaming channels "I didn't like either of them.
"With such a new and undefined format, no one really knew what was and wasn't yacht rock, and it reflected in their playlist," observed Ritz at the dawning of the four or five years ago.  "When I heard 38 Special and Foreigner on a yacht rock channel, I knew it was time to make my own."
Ritz began programming Yacht Rock Radio online, and attributed some of the success to quickly snapping up the YachtRockRadio.com domain, as well as the YachtRockRadio Facebook, Twitter, and Instagram handles.
Another point of distinction from the 'pure play' yacht rock channels which operate 24/7, is they are automated playlists with no human touch or interviews; a loosely defined yacht rock jukebox based on an algorithm, basically.
"Yacht Rock Radio is the only yacht rock outlet where you'll hear a live DJ interview yacht rock legends like Ambrosia, Little River Band, or Bertie Higgins," says Ritz.
Among other interviews, JMV has made an appearance on Yacht Rock Radio to list his 5 favorite songs of the genre.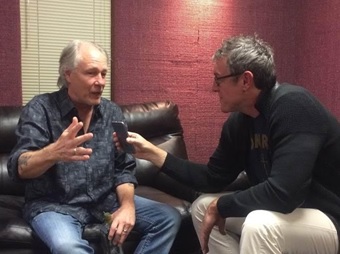 While the jumping off point for broadcast was a soft rock terrestrial radio station in Springfield, IL, Ritz found out that even the best radio program directors weren't quite sure what to do with Yacht Rock Radio.
"The Wall Street Journal and Jimmy Fallon have done features on yacht rock.  Yet as popular as it's become, it still is the underbelly of pop culture."
Today Yacht Rock Radio is on the Dash Radio platform which boasts 7.5 million users over 70 commercial-free stations, as well as a host of celebrity and music-expert DJs programming the shows and stations.
Explore more Yacht Rock Radio with Adam Ritz at: