"Twitter Is The New On-Air Listener Call." Hear Versatile Announcer And Program Director Share Thoughts On This And More.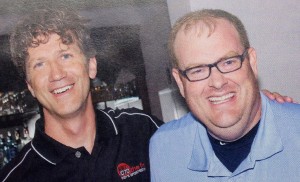 Pro sports…college sports…high school sports…mainstream sports…or Olympic sports…Greg Rakestraw has announced them all on TV, the internet, and of course radio!
Now as 1070/107.5 THE FAN's Program Director, he is responsible for the sound of Indy's most localized station! With a broader appeal than a typical sports station stereotype, Rake says "we serve all comers here on THE FAN."
Listen to his thoughts on how audience intimacy makes radio special, why sports-radio listeners are valuable for business to advertise to, and how social media compliments radio while broadening audience interaction.
Click here for archives of Rakestraw hosting "Soccer Saturday" heard live weekly at 10am on 1070/107.5.

Click here for additional Radio Indiana EXCLUSIVE PODCASTS you might like.