People In The Community Will Support Local Businesses, But First Must Know They Are open.
Below is a post published recently by Radio Advertising Bureau's Annette Malave, SVP/Insights.
It can't be said enough – these are extremely unusual and difficult times for everyone. As each day passes, I think it is safe to say that we all hope and look forward to things getting better. They will, but it is just a matter of when.
I am certain that many of you have gone to local businesses in search of certain products or items and looked at the people in those businesses in a way you never had before. They are on the front lines, making sure that we have what we need.
Knowing what businesses are open and available is important to everyone right now. However, it is just as important to the employees that work there as it is to the shopper.
While it might seem counterintuitive, advertising during this time is crucial. If businesses advertise, people will shop or take advantage of services now while they are home, and the employees of those businesses will continue to work.
Simply stated, advertising during these times matters, and here are 10 reasons why businesses – large or small – should advertise during difficult times like these.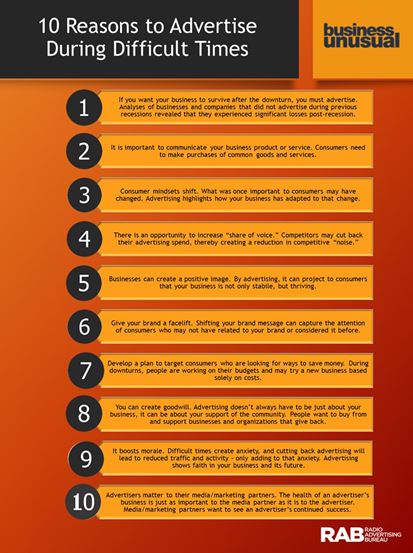 People want local businesses in their community to continue to thrive and be successful, especially during these times.
Advertising can help local businesses keep their doors open.
People in the community will support the local business, but first they must know that they are open for business.