March 18, 2020
With 'Social Distancing' To Be A Near-Term Norm, Businesses Must Sharpen Communicating With Customers.
As America's telework policies for employees and online learning for K-12 & higher learning attempt to limit the spread of the Coronavirus, research firms are beginning to track how staying indoors influences media behavior. 
Not surprisingly, they are finding out that the microphone is as important as ever.
Nielsen Insights did by reviewing some catastrophic events in recent years.  While COVID-19 is unprecedented, and found staying inside one's homes can lead to almost a 60% increase in the amount of content we consume.
And specifically with audio, a recent NuVoodoo study shows radio on the rise as Americans turn to the medium for information and updates on the health crisis.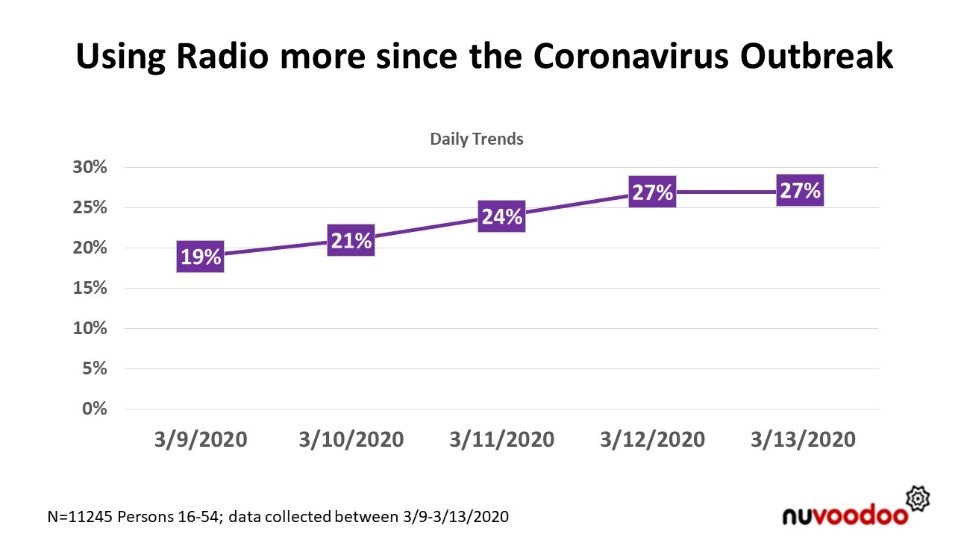 Why?
"AM/FM radio is the soundtrack of the American worker regardless of where they sit," Pierre Bouvard, Chief Insights Officer at Cumulus Media and Westwood One writes in a new post on the Everyone's Listening blog. "Even if more are currently working from home, AM/FM radio is still America's number one mass reach media."
Office at-work listening habits are likely to carry over as employees look for some sense of normalcy by continuing to listen to their favorite stations throughout the work day. Plus, of those who are regular remote workers, Nielsen Scarborough USA+ reports that 90.8% of Americans who work from home are reached by AM/FM broadcast radio.
Radio is already strong both at-work and in home, as Edison Research proved in its recent "Share of Ear" study. "AM/FM's at-home share of ad-supported audio is actually a bit stronger at home versus at work," Bouvard points out. "In both locations, AM/FM radio is the dominant audio platform."
The share of listening to AM/FM radio at work is 68%, while at home listening rises to 75%. The "Share of Ear" study looked at ad-supported audience of persons 18+ Q1-Q4 2019.
Advertiser Impact
What's more, the ads played on platforms outside of radio rarely get heard, as the services are used more as background than local AM/FM radio is. "Music streaming services are great for 'chilling out' and are played softly in the other room," Bouvard writes. "As such, few can hear the ads."
Also, as outlined in a prior post at home listening is also bolstered by the use of smart speakers with Edison Research showing that AM/FM radio is No. 1 in smart speaker share of time spent, garnering 24% of the share (persons 13+ Q3 2019) – 60% larger than Amazon Music's 15% share.
Bouvard said Triton Digital reports streaming audience share increased last week for public radio and news/talk radio stations, which is not surprising.

The above graphic demonstrates that is also the case in Central Indiana. It is website traffic stats of the last couple weeks – with green indicating increases from a year ago – for Indy's top radio news & talk station. Notice:
Total users + 74%
Overall page views + 66%
Clearly, like I said earlier, the microphone is as important as ever… so during this challenging time with a captive audience, is your business doing all it can to leverage this platform?
This story includes excerpts from a report published earlier today at Inside Radio.