February 12, 2020
Former IU Player & Coach Turned ESPN College Basketball Analyst Has Become A Local Radio "Rock Star".
Barrett Sports Media annually recognizes top performing outlets and individuals through a series of surveys with over forty industry professionals in thirty cities representing eighteen different ownership companies.
Voters were asked to consider the criteria below to judge the format's best programs:
Strong ratings in 2019
Industry track record
Reputation and influence
Finished 2019 with the network/station
Ability to entertain and inform consistently
Points are given for each spot (EX: 20 for 1st, 1 for 20th)
In recent years WFNI-Indianapolis has been recognized with BSM's Top 20 in various categories, specifically the former midday program of The Grady & Big Joe Show and The Ride With JMV.  Last month The Dan Dakich Show repeated as the nation's #1 midday mid-market program.
Dakich won the award last year by 22 points. For 2019, he increased his lead, taking home the top spot by 41 points, thanks to the most 1st place votes (9) and appearing in the Top 3 on more ballots than any other show in the category.
Good news for Indy radio listeners, also last month Dakich announced he's resigned his contract with Emmis Communications.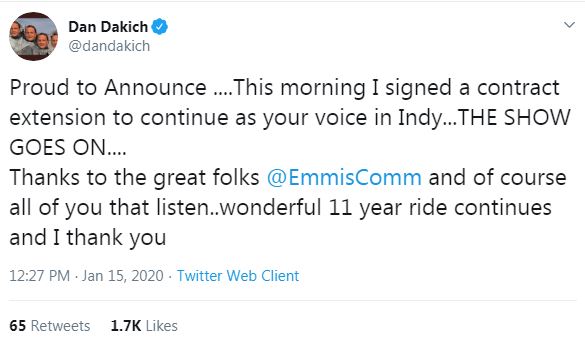 Rock Stars In Their Own Right
Below is a republishing of my blog post 5 years ago – which is still relevant today – on how & why sports talk personalities like Big Joe, JMV and in this case Dakich far out-deliver for sponsors than rock 'n roll.
Advertisers have long believed rock 'n roll radio stations are a solid choice to reach male audiences. At first glance statistics support that notion as the rock genre garners 43% of Indy's Men25-54 listening according to the most recent Arbitron survey (the only other formats to post double digit percentages are Talk 27%, Country 16% & Adult Contemporary 11%).
But Indy's leading sports station 107.5/1070 THE FAN, (with hosts who have 'rock star' sized personalities – including weekday Noon-3pm host Dan Dakich, featured in this Indy Star profile) is showing that THE FAN delivers audiences on par with the rock market! Let me explain…
That rock genre is crowded and fragmented – playing "new rock", "world class rock" & "classic hits" – with minimal points of differentiation. So when formats are about equal, an advertiser looks for a "tie breaker" that will deliver results.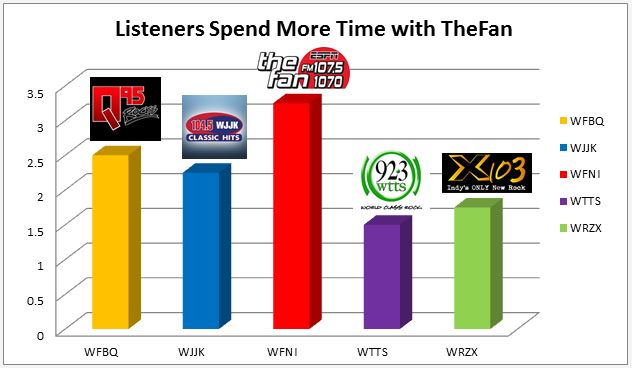 Content unique to the station – for example, you are likely to hear bands like Dave Matthews on all Indy rock stations at some point but you'll only hear Dan Dakich on THE FAN – means there's more listener loyalty on 1070TheFan and stations with unique content than what happens among the rock stations who play similar songs. Plus audiences spend more time listening to THE FAN. All of this leads to greater commercial effectiveness.
But just being unique isn't the only thing that captures listeners; it's also about being good, and as the Indianapolis Star article points out Dan Dakich is very, very good! He connects with listeners in Central Indiana so well not just because of knowledge but also his honesty, integrity, understanding of the community, and ability to relate to the audience. As ESPN's Dave O'Brien said, Dakich with a microphone is "lightning in a bottle".
Advertisers should take advantage of that… or you could buy an ad near the next Dave Matthews song, I guess; but on which station, all of them?