Intended To Rejuvenate AM Dial, Broadcasters Should Be Able To Decide If Dropping Analog Is Right For Their Station.
Just months after the Media Bureau first asked broadcasters whether a proposal to give AM stations the option of casting off their analog signal and offering just a digital signal has merit, the Federal Communications Commission on Friday voted to advance the investigation to the next stage. Positioned as the latest in a series of moves designed to reinvigorate the AM dial, the FCC has put out for comments a proposal that says AM broadcasters should be allowed to voluntarily decide for themselves if pulling the analog plug is the right decision for their station.
"Although the hybrid system works for FM broadcast, the nature of the AM band makes it difficult to simultaneously have a digital signal and an analog signal and has hampered the widespread adoption of AM digital radio," said James Bradshaw, Senior Deputy Chief of the Audio Division in the Media Bureau. He told the Commission that a series of field tests have shown that all-digital AM signals are "more robust" and can offer a coverage area that is "equal to or exceeding" analog coverage. "Offering this choice will allow AM broadcasters to make their own assessment for their circumstances," said Bradshaw.
The Notice of Proposed Rulemaking (MB Docket Nos. 19-311, 13-249) asks the industry to share its insights on a variety of issues that the FCC is still considering. That includes what the potential impact would be for listeners from the loss of analog AMs. There are also questions related to power limits and nighttime operations, and perhaps most critically for advocates of the idea, convincing the FCC that all-digital AM stations would not potentially lead to additional interference on the dial.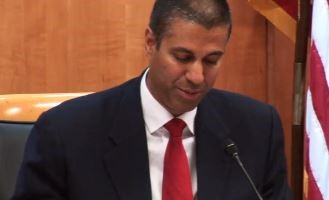 FCC Chair Ajit Pai, who has championed AM radio since arriving at the Commission seven years ago, signaled he is leaning toward supporting the proposal, pointing out it would allow broadcasters to decide for themselves whether digital is right for them. "We need to bring AM radio into the 21st century," he said. "This is the latest step in our ongoing efforts to revitalize AM service and I'm eager to see how this could lead to the next generation of AM broadcasting."
NAB Supports Digital-Only Option
The National Association of Broadcasters has supported a move toward allowing all-digital AM and it welcomed the Commission's vote. "Broadcasters appreciate the FCC's leadership on the issue of AM revitalization and look forward to working with the Commission and other stakeholders in advancing this rulemaking," said EVP Dennis Wharton. "Many AM radio broadcasters are exploring all-digital radio's potential for delivering markedly improved reliability and audio quality for listeners."
To date comments filed in the proceeding have largely been positive, although most large radio groups have yet to weigh in on whether they'd support a wider rollout of all-digital AM. Some listeners have also submitted comments that lamented the prospect of losing AM stations from the receivers they're currently using.
The FCC has already been exploring the idea of allowing digital-only AM stations. The Media Bureau last year granted one-year experimental authority to conduct tests on all-digital using Hubbard Radio's adult alternative "The Gamut" WWFD Frederick, MD (820). That included testing to see how the switch to an all-digital signal impacts WWFD's coverage area. Nine all-digital AM tests were conducted between 2012 and 2014, spanning a variety of station types and geographic locations.