Former 1070 The Fan Producer Is Profiled In-Depth Recently By Local Columnist
Below are excerpts from a lengthy write up this week by Gregg Doyel of Indy Star.
In those days, there on the (Indy) south side, his imagination was his reality. And Matt Taylor could imagine all sorts of magic.
That's no living room. That's Market Square Arena, and the game's about to start, which means turning off the lights, turning on the music and waving a flashlight – sorry, a strobe light – as Matt Taylor introduces the Indiana Pacers' starting lineup "out of UCLA, Reggiiiiiiiie MILLER!"
Last Sunday of every May, he put together his toy racetrack and turned his parents' living room into Indianapolis Motor Speedway, describing the action from the couch. Sorry, from the Pagoda. 🙂
Monday nights in the fall meant a radio in bed, listening to the NFL, waking the next morning with the radio still on. Matt Taylor was a linebacker for St. Jude – then for Roncalli, then Franklin College – but he didn't imagine playing in the game. He was the one who talked about it, preferably for his hometown team. As he fell asleep to "Monday Night Football," he was in the radio booth of the Indianapolis Colts.
Crazy, the things a kid can dream.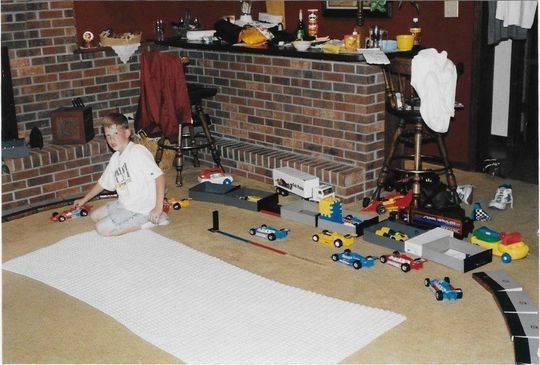 It wasn't supposed to happen this way. Not with a phone call from his boss with the Colts, where he'd worked on the radio team since 2012… The night of Aug. 18, Matt Taylor was told that the voice of the Colts dating to 1984, Bob Lamey, was resigning one week after using a racial slur off the air.  The Colts had a preseason game in 48 hours…
…"I remember taking a deep breath and knowing what this meant," he says. "At that point I'm thinking: 'OK, here it is. I'm 33 years old, and getting ready to do a job that only 31 other guys have at this moment in the NFL.'"
Paying His Dues
At Franklin, where teammates voted him captain as a senior – Taylor scored twice for the Grizzlies, returning an interception 57 yards against Anderson, and a fumble 7 yards against Mount St. Joseph – Taylor did play-by-play for men's basketball, women's basketball and baseball. He didn't do football play-by-play for obvious reasons, but the game-day broadcast was his: planning it, taping interviews, getting to the press box four hours before kickoff to put out the broadcast team's gear, then going to the locker room to put on his pads.
Taylor's first job offer after graduation came from IU in 2008. IU football coach Bill Lynch's son, Kevin, was a star receiver at Franklin. Through that connection, Taylor was offered the chance to travel with IU volleyball for the team's webcast. What did he know about volleyball? Nothing. Had never seen a game, so this is what he did: He researched volleyball terms on Wikipedia. He watched games on YouTube. He grilled a cousin who played club volleyball at Purdue.
"If you say 'no' to that, you might not get another chance," he says. "You never know."
Matt Taylor said yes to internet volleyball, which led him to 1070-AM, producing for morning host Michael Grady and answering phones on Friday nights for Bob Lovell, which led to calling high school football games (and producing "The Ride With JMV"). Which led to the Colts. Production, mainly. Behind the scenes. But that led to this moment, this opportunity of a lifetime.
"I don't take it lightly," he says. "I understand how competitive this is, and how precious these jobs are… I think this is what I was born to do… I hope my passion, research, enthusiasm, love for football and the Colts is evident in what you hear."
It is, and here's how it sounds: Like somewhere on the south side, a kid's dream is coming true.
During a short podcast in 2013, Taylor talked about his career to that point and sports radio in general.