Then & Now, Hoosiers Take Part In Armistice / Veterans Day Activities.
This week commemorates the ending of "the war to end all wars" one century ago.
Armistice Day pays tribute to the signing of a truce between the Allied Powers and Central Powers.  The armistice essentially ended the war, through the official end did not occur until the Treaty of Versailles was signed in 1919.
With 100 years now passing since that ceasefire, it's worth reflecting back on how Hoosiers celebrated peace then and look to how the landmark will be honored in 2018.
Over There and Back Home
According to The United States World War One Centennial Commission, 135,000 Hoosiers served overseas in the war.  Three thousand of them sacrificed their life.
The agreement to end hostilities was reached on the eleventh hour, of the eleventh day of the eleventh month.  Around the world and here at home, the day was celebrated with fanfare.
Here at home, like in many cities around the world, the fighting's end was met with celebrations.  Residents took to the streets to celebrate the end of WWI.
Soon it became an annual tradition back then to annually honor the day with parades across the nation and other public gatherings.
Radio history also happened thanks to Armistice Day.  President Woodrow Wilson delivered a national address nationally recognizing November 11th.  This speech is the earliest known recording of a radio broadcast – and may have been the first remote (non-studio) radio broadcast.
In 1926, Congress passed a resolution that recognized Armistice Day.  By that time, more than half of state legislatures recognized the day as a legal holiday.
Finally, in May of 1938, the day became recognized as an official Federal Holiday.
Then after the end of World War II, many countries officially began to commemorate both World Wars on November 11.  The name Remembrance Day was adopted by many nations but the United States instead chose Veterans Day to honor participants of all military conflicts.
Famous novelist, and Hoosier Native, Kurt Vonnegut later urged to a resume honoring the day as one of peace.
As he wrote in Breakfast Of Champions:
Armistice Day was a hallowed anniversary because it was supposed to protect future life from future wars. Veterans Day, instead, celebrates "heroes" and encourages others to dream of playing the hero themselves, covering themselves in valor.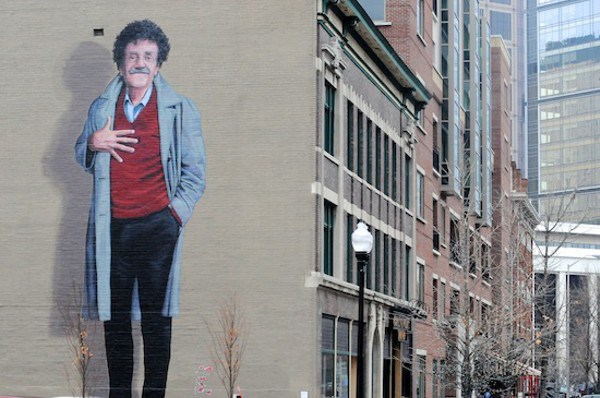 Vonnegut was a Nazi prisoner of war in WWII who endured Allies' fire-bombing in Dresden, Germany.
2018 Celebrations
While the reasons might have changed, celebrations will again take place across Indiana.
Events will include an annual parade in downtown Indianapolis and a service honoring all members of the armed forces on the steps of the Indiana War Memorial.
The program will include a message, a wreath laying presentation, along with several songs and prayers.  Festivities begin Saturday November 10 at 10:30 on the steps of the Indiana War Memorial.  The annual parade will begin at noon.