Announcing First Enhanced AM/FM Radio Experience In The Connected Car.
Radio's future could be seen on your car's radio.
Tagstation, a division of Indy-based Emmis Communications, and owner of the NextRadio® app, can be seen on new aftermarket radios from JVC and Kenwood.
That means an interactive, visual AM/FM radio experience based on where you're driving is possible for the first time.  It's all made possible by your phone's internet connection.
When a driver pairs his or her smartphone to one of the new units, the phone's internet connection allows the NextRadio app to download to the radio's head unit.  When a driver flips on the radio, station logos, album artwork, and other images will appear on the screen.  Local AM/FM radio broadcast sound comes over-the-air like normal radio audio would.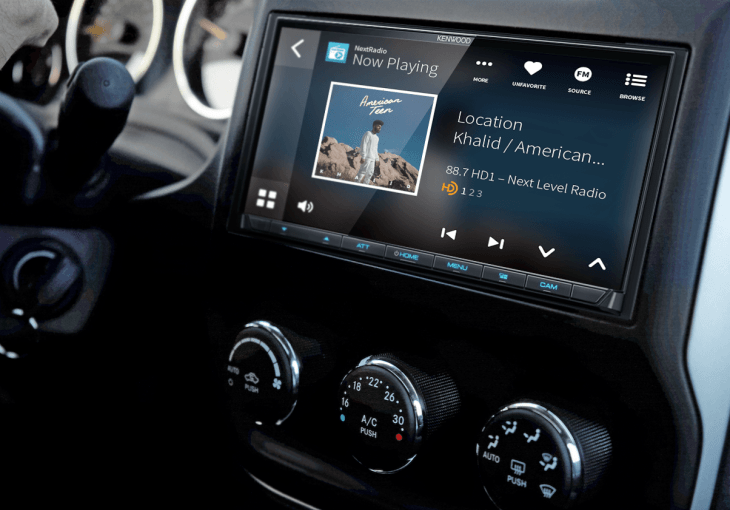 The app is designed to keep drivers moving instead of searching for content like they would on a traditional dial.  Users can easily browse stations with the "at a glance" view of what's playing live.  That helps drivers spend more time with their eyes on the road, and not searching for their favorite song.  Perhaps the best part is that NextRadio automatically updates based on where you're driving, which means the app gets better the farther you get from home.
"We are excited to be the first enhanced AM/FM radio experience in the connected car through our relationship with JVCKENWOOD," Paul Brenner, the President at NextRadio said.  "The ability to provide an interactive, in-car experience is a huge victory for the radio industry and offers a great experience for radio listeners."
The WebLink model has an app that users can download to their smartphones, which allows content to be seamlessly migrated to the car unit.
In addition to using NextRadio, users of the new units will be able to access Waze navigation, YouTube, Yelp food reviews, and a number of other apps.
Michael O'Shea, the CEO of Abalta Technologies—the maker of the unit's software—believes web connected cars are the future.
"As we continue to build out all aspects of the connected car experience within our WebLink platform, we are prioritizing those apps that generate the greatest mobile experience for everyday users….NextRadio represents the evolution of radio that consumers expect, and provides as an in-dash visual experience like no other," said O'Shea.
The NextRadio app is available in a number of systems that can be purchased as aftermarket models here.