Below are excerpts from report originally published by IndyStar's Domenica Bonogiovanni this spring.
Turn on WQRT 99.1 FM any time of day or night and you could hear Sonic Youth's "Teen Age Riot," The Velvet Underground's "Some Kinda Love," Tina Turner singing country songs or, on occasion, local sound artist Oreo Jones' "Sound Lab" — where people bring in instruments that can connect to amps to create free-form electronic music.
While the station has been years in the making, only in the past few months has it achieved the ability to finish its studio and go live on air from several parts of the Big Car campus. Listeners need a radio or device with an FM receiver to tune in. WQRT isn't streaming online yet, but plans are in the works.
"It's really a reflection of the art and community and cultural things that are happening," said Jim Walker, Big Car Collaborative (Garfield Park-based cultural organization) CEO and lead artist.
"We really think about the station as more like an art and community space, but just (in) a broadcast format."
WQRT is among a wave of small, noncommercial, local radio stations taking off after the Federal Communications Commission approved many Low Power FM Radio (LPFM) licenses. To encourage diversity on the airwaves, the FCC in 2000 created a class of Low Power FM Radio licenses that are 100 watts or less. The LPFM stations are for locally-based nonprofit organizations that emphasize education, community, public health or faith, among other causes. Indiana has 49 such licenses, according to the FCC.
In 2013, the FCC opened up a new window for applications for new LPFM licenses after legislation was passed to allow more stations in larger markets and urban areas. That's when the Prometheus Radio Project, a Philadelphia-based community radio advocate organization, told Big Car it should apply for a license.
"We were competing against probably 20 other local nonprofits just in our immediate vicinity," said Holly Sommers, who manages WQRT and trains volunteers.
"It was a really in-depth process of proving your worth as an organization."
Sommers headed the process to obtain the FCC license, and through that, Big Car learned the ins and outs of running a radio station. The organization rents space on a tower, turned a tiny room inside Listen Hear, the garage-sized building across Shelby Street from Big Car's headquarters at the Tube Factory artspace into a broadcast studio, and has been wiring its campus to broadcast events from the art gallery and other areas.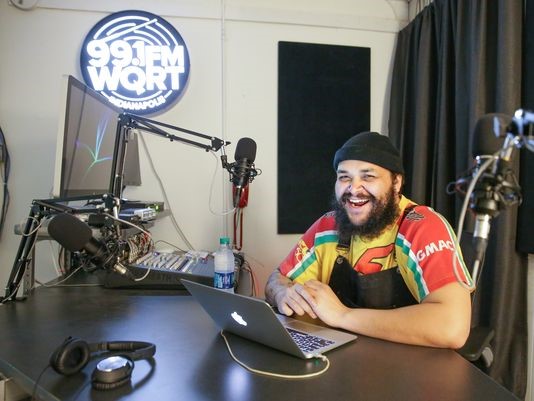 Musician Oreo Jones hosts his monthly experimental music show Sound Lab, on 99.1 FM WQRT at Big Car's Listen Hear.  (Photo by Michelle Pemberton/IndyStar.)
The LPFM's 100-watt stations have signals that are expected to cover a 3.5-mile radius but can be heard further than that, according to the FCC.
WQRT's tower is at Washington and Rural streets. To test the barriers, Walker has driven around and heard it in most of Marion County. It starts to fade out on the northeast side by Castleton, he said. Walker estimated that the potential reach is more than 500,000 people.
"It's such a digital world, and everything's so on demand and perfectly crisp and perfection all the time," Sommers said. "So something that's DIY, something that is affected by weather and traffic and things like that, it's really interesting. It does have a more human quality to it."
Sommers has found ways to engage those who email her queries about what song is playing. She'll ask where they're listening from and if they'd be interested in talking about their musical tastes on air.
Big Car calls it the accidental beauty of discovery. Opportunities for this have decreased as people stay in their own bubbles by self-selecting news, TV shows and music, Walker said.
"The people that love it the most are usually people that didn't come there for it," Walker said.
That was the case for Daniel Chamberlin, who started his program, "Inter-Dimensional Music," in Marfa, Texas, before moving to Indianapolis. After hearing Aphex Twin, he reached out to Sommers, and now his show has a home at 3 p.m. Fridays and an encore at 8 p.m. Mondays… He plays music that intrigues him — death metal, new age music, psychedelic jazz, the Grateful Dead and Indian ragas.
"If you like it, it's chocolate and peanut butter," Chamberlin said. "If you don't, it's coffee and toothpaste."
Want to get involved?