New Service Is Both An Ad Exchange And Ad Server, Bringing A Programmatic Solution To Broadcasters.
Originally published last month by Adam Jacobson of the Radio & Television Business Report.
The presence of "pre-roll" on an audio stream is kid's stuff in the grand scheme of online radio's ad-enrichment activities.
But, what if a consumer's audio command could instantly provide more information on an offer, or a brand?
That's the focal point of a new tech tool being marketed to broadcast media by one company that believes it has a big new way to monetize the digital platform.
Introducing AI-powered voice-activated advertising, courtesy of San Francisco-based Instreamatic Inc. 
The idea is simple: At the start of a broadcast station's streaming audio or video, an advertisement starts. When the commercial ends, the consumer is given an opportunity to learn more. Yes? Just say so, and the information is delivered.
Of course, this requires a smartphone or tablet.
But, that's where the big majority of audio and video streaming is being done in 2019 — and not on a PC or laptop computer.
Andy Whatley, Senior Director of Business Development & Partnerships at Instreamatic, is convinced that radio broadcasting companies have a big ROI tool on their hands. As audio response is poised to grow, the ability to express a "target action" — a.k.a. "open page" or "call company" — brings a treasure trove of data to the client and the radio or TV company.
Additionally, voice-activated advertising can serve as a conversion rate driver.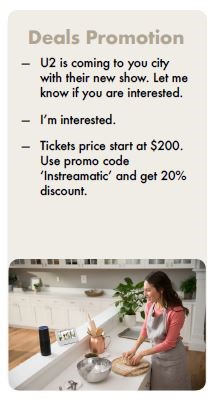 Whatley says AI-powered "tell me more" online ads were born out of podcasts. As such, "this is absolutely relevant to the broadcaster."
That said, don't think for a minute that an audio stream's stop-set would self destruct if, during a commercial break, a consumer said "tell me more" before other ads aired.
That's not how Instreamatic is positioning this technology. Rather, it is "before the stream" advertising — something commonly seen on iHeartRadio or TuneIn.
OK, but who controls that inventory? "Swapping out that inventory is possible via integration, benefiting the publisher," Whatley notes. Thus, a broadcasting company can now control what spot airs before that audio stream begins. Instreamatic hopes to begin working with one big streaming audio player on localized spots in this manner. And, it very much wants to partner with local radio.
Whatley says, "Simply put, the audio ads to mobile advertising on any mobile device that has a mic. For example, there is an offer from Walmart that a consumer sees or hears. They're asked, 'Are you interested?' If the answer is yes, an audio ad appears."
For Walmart, its media buyers, its ad agency, and the radio or TV station tied to the stream, there is measurement and engagement to be collected — a big new benefit for all involved.
The other big plus, Whatley adds, is the interactivity of the ad — something a linear broadcast channel can't do.
Instreamatic serves as both an ad exchange and an ad server, bringing a programmatic solution to the AI-powered "say more spot."
"We empower audio publishers with intelligent advertisements that people can speak with," Whatley concludes. "Voice-activated ads have four to six times higher CPM rates than audio advertising, and doesn't compete with other ad formats for screen real estate. It's a more fun and intelligent way to engage with ads."
Whatley notes that Instreamatic provides "an all-in-one solution" with integration via SDK.
Ads are served through a DFP or any other traditional ad server.
Supported platforms include iOS and Android-powered devices.
With the "connected car" coming soon, radio stations win.
What about the Connected TV? That's coming soon, Instreamatic promises.
For now, the smart speaker can only receive audio ads without voice activation, due to policies set up by Google and Amazon, Whatley says