Now Working In NYC, 1070's Grady Returns For NBA Opener
Tonight for the 10th straight season, Michael Grady will be courtside for the Indiana Pacers home opener.
Something different, though, is he'll be working for the visiting team the Brooklyn Nets.
Grady, recipient of the state's 2016 Sportscaster of the Year Award, announced on Twitter last month he accepted a full time position with the YES Network to be the sideline reporter for the Nets.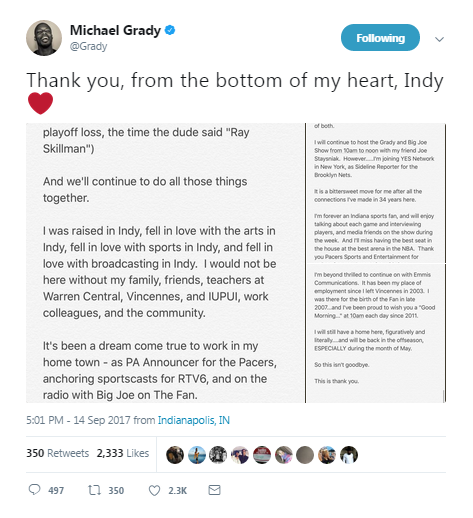 Despite Brooklyn having one of the NBA's worst records in recent years, this is a top level job for a couple reasons:
For starters, Grady now will work 80+ nights a year on TV in the nation's #1 media market.
And he joins one of the best broadcasting teams in the league headlined by Ian Eagle — voted the New York Sportscaster of the Year in three of the last four years, including for 2016 — and Sarah Kustok, the former sideline reporter who is sliding to the broadcast table.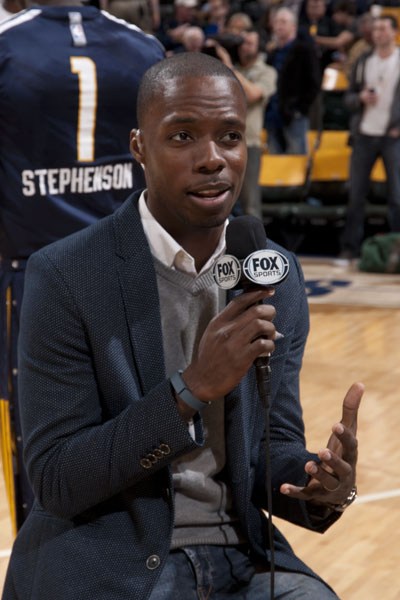 From The Pet Show To The Big Apple
Grady's journey to the big time hasn't happened overnight.  He's certainly paid his dues.
The Warren Central H.S. grad first began his career with Emmis Communications, while still taking classes at IUPUI, as a producer for a Saturday afternoon call-in show about pets host by a local veterinarian on 1070-WIBC.
Michael also filled in as a producer on a similar once a week show about cooking! (No joke.)
His break in to sportscasting with Emmis came as the producer for Bob Lovell's "Indiana Sports Talk" on Network Indiana.
Then in 2007 when the station was planning to switch to the FM dial and launch all-sports WFNI "1070 THE FAN" on the 50,000 watt day time AM signal, Grady was tapped to be the station's Executive Producer.
He held that position until he became the station's co-host of "The Grady & Big Joe Show" weekdays 10am-Noon.
Pacers opportunities came knocking, too.

Grady first acted as the team's emcee for on-court and in-stadium video interaction with fans during home game timeouts.
Then for the last several years, he was the P.A. announcer for all games at Bankers Life Fieldhouse.

On top of all this, Grady took an Indy TV gig doing reporting and anchoring for WRTV-6's sports department.
Still Heard Regularly On Naptown Radio – And Lovin' It
MG recently moved to New York City but remains co-host with former Colt Joe Staysniak of WFNI's "Grady & Big Joe Show" weekdays 10am-Noon.
Many may scoff at the thought of a Hoosier making it to the city that never sleeps on television and maintaining a radio gig back in Central Indiana.  But Grady is an Indy guy at heart… and he LOVES the medium of radio as this previous podcast conversation with him highlights.
Enjoy that listen.  And congrats to Michael!