Newsfeed Serves Station-Centric Content, Like Trending Tweets From Your Favorite Radio Shows
NextRadio, the innovative radio app developed by Emmis, features an additional level of interactivity that marries the best parts of FM radio and streaming media.
Newsfeed, a new feature within the app, allows users to opt in to receive relevant content along with the broadcast, enhancing the overall experience and interactivity between the radio station and the listener.
Features of the Newsfeed Include:
Album releases from your favorite artists
Upcoming concerts in your area
Tweets from stations you love
Hot Songs
Song and artist trivia that interests you
Importantly, users who opt in will receive emergency alerts on the app, much like a broadcast station would provide. "We are excited to provide ALERT FM emergency messages to users of Newsfeed. Our partnership with NextRadio will allow us to expand our nationwide footprint in receiving emergency updates and increase our user base," sad Matthew Straeb, EVP/CTO of Global Security Systems, maker of ALERT FM.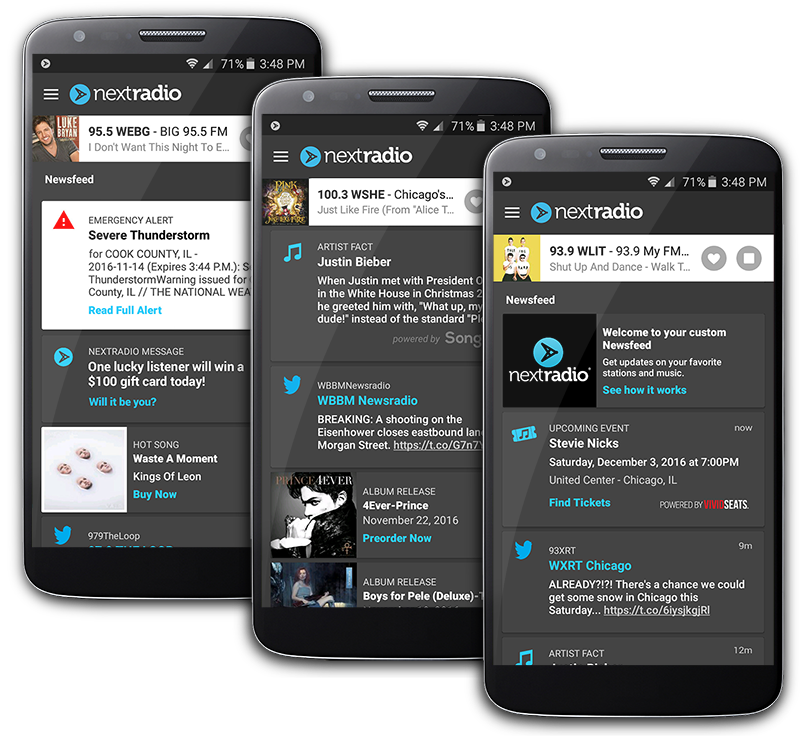 "The app was built for avid local radio listeners," said NextRadio VP of Product Development Ben Husmann. "We continually look for ways to help our broadcaster partners further integrate their programming into our mobile app. Newsfeed is a natural product evolution to create a more robust radio listening experience."
This integration signals good news for NextRadio and Emmis. CEO Jeff Smulyan told Inside Radio that he's "…seen significant improvement and increased involvement in negotiations with other manufacturers," alluding to the large and ever-growing number of carriers and smartphone brands supporting and pre-installing NextRadio. The app recently surpassed 10 million downloads and 25 million listening hours.