Panelists Of Industry Experts Seek Answers To Modern Feasibility Of The 1992 Cable Act.
Retransmission fees.
While it sounds like something that could be the cost of repairing part of your car's engine, it's actually a payment required for video programming.
Cable operators & TV satellite services (referred toas "multichannel video distributors" MVPDs) must pay affiliates for carrying their stations on their MVPD according to the 1992 Cable Act.
Networks now seek a portion of those retransmission fees from affiliates for providing exclusive content to the local market through the station; this is referred to as "reverse compensation".
Central Indiana residents in recent years have come to learn these terms and been caught up in drama of negotiations, threats & actions which probably aren't over.  Examples:
With broadcasting having undergone massive change in the 25 years since the 1992 Cable Act put current policy in place, the FCC, Congressmen and D.C. Senators are now questioning the modern feasibility of retransmission consent and fees.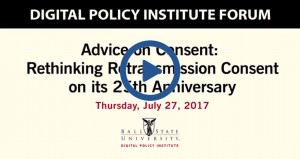 Last week the Digital Policy Institute at Ball State University assembled a panel of industry experts and hosted a webinar to discuss the legislative and regulatory future of broadcast retransmission.
Click on the player above to watch.
Solutions may surprise viewers, and reinforce this is a complex situation that will likely look different in the not-so-distant future.