Nielsen Partners With TagStation, The Power Behind NextRadio
As part of Nielsen's Total Audience strategy for audio, there is commitment to measuring consumer usage of audio across all devices, platforms and distribution paths.
Currently methodology uses Portable People Meter (PPM) technology and diary survey to measure broadcast and digital stream consumption of AM/FM stations.  However, emerging data sources provide advertisers with enhanced market insights and enriched audience listening data.
Nielsen Audio, in collaboration with TagStation, is exploring the use of data from TagStation's NextRadio app and the opportunities this dataset may provide. The NextRadio app delivers over-the-air FM broadcasts to smartphones and captures precise data of who is listening to a station. Today, NextRadio has more than 16,000 FM stations, is supported by nearly 100 different types of mobile devices and has over 11 million downloads from the Google Play Store.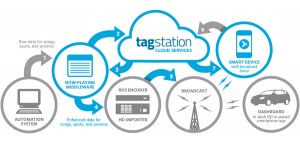 The insights from the Nielsen-NextRadio effort could serve as a catalyst to integrate the power of big data into the audio ratings currency.
"We are excited to be working with Nielsen to identify the mutual benefits of our NextRadio listener data that will support the entire radio industry," said Paul Brenner, President of TagStation, the power behind NextRadio. "We have robust listening and user data that stations can use now to help them better understand their listeners and listening share, and we look forward to positively contributing to radio measurement in the future."
"NextRadio is a growing, high profile, and industry-supported platform that has the potential to serve as a big data source for the radio industry," said Brad Kelly, Managing Director for Nielsen Audio. "The work we are doing with TagStation can help inform us about how to use Big Data to enhance our Audio Measurement and deliver best-in class solutions for the audio clients."