Slew Of Charts Show When, Where and How They're Tuning In
By the editors of Media Life Magazine.
When buying radio, as in buying any medium, it's critical to know how the medium is consumed and by whom and when. To that end, Media Life has reached out to the research groups that track such data to pull together the charts below. 
Here are some of the highlights:
Radio has a higher reach of all demographics over other platforms (chart 1)
Demand for streaming continues to grow, but 55 percent of radio listening still comes from AM/FM stations. (charts 2,3)
Of those listening to streaming audio, more than half still listen to traditional radio. (chart 4)
Traditional radio remains the best way for reaching consumers close to point of purchase, as only a third of streaming audio is heard away from home. (chart 5)
Radio provides ad delivery when consumers are closer to point of purchase and reaches a qualified, working audience. (charts 6, 7)
Don't exclude midday drive from your radio buys. The highest ratings occur at 7 a.m. weekdays, but midday has the highest AQH rating. (charts 8 )
Younger generations have the highest listening during PM drive. (chart 9)
Charts 10 through 14 break down listening by demographic.
  Chart one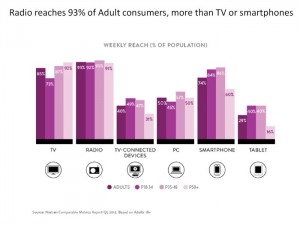 Chart two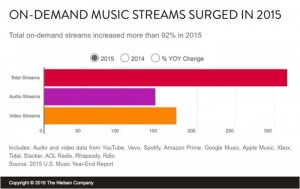 Chart three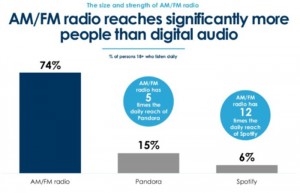 Chart four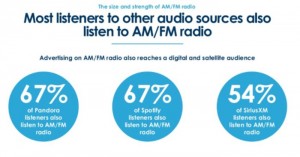 Chart five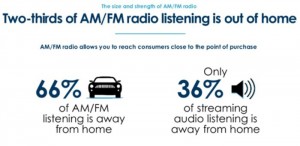 Chart six

Chart seven

Chart eight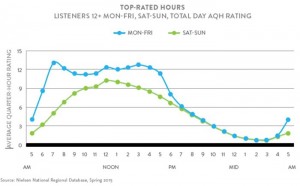 Chart nine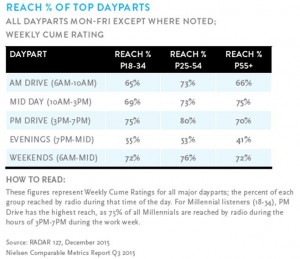 Chart 10
Chart 11
Chart 12
Chart 13
Chart 14
This is one in a number of stories on radio in Media Life's ongoing series "The new face of radio in America."  It was originally published June 9, 2016