Dan Osborne and Emmett Andrews, Finalists For Industry's Prestigious Mercury Award
Emmis Creative Services knows what works.
Dan Osborne and Emmett Andrews traveled to New York City in June as finalists in the Radio Campaign category of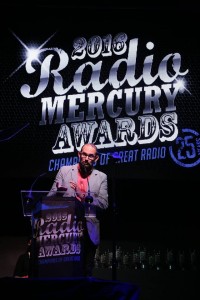 the Radio Mercury Awards. The Mercury Awards are "the only competition exclusively devoted to radio…to encourage and reward the development of effective and creative radio commercials," and have been compiling the best of the best since 1992.
Emmis Creative Services's excellent campaign featured Emmis-backed technology NextRadio in an awareness campaign to adjust new consumers to the product's capabilities.
What's most impressive about the nomination is that Dan and Emmett weren't just going up against other local radio creative departments. They were nominated alongside national and global ad agencies like Saatchi & Saatchi, DDB Chicago, Goodby Silverstein & Partners, and FCB Chicago. And while some of these had large production houses with separate writers, producers, and outside talent, the NextRadio campaign was written, produced, directed, and voiced by Dan Osborne and Emmett Andrews. That's it!
Listen to the campaign compilation here.
Additionally, Dan and Emmett were chosen out of more than 6,000 entries – again, including major brands and international ad agencies – to receive The Communicator Award of Distinction in the Audio category. The Communicator Awards "is the leading international awards program recognizing big ideas in marketing and communications." In its 22nd year, the 2016 awards included entrants from all aspects of the creative advertising field, from radio to online video to integrated marketing campaigns.
Congratulations to Dan and Emmett!
Interested in learning more about Emmis Creative Services? Check out Radio-Indiana.com's Beyond the Mic feature on "Getting to Know People Who Make Our Advertising Happen."