Traditional Hoosier Autumn Activities Have Statehood 200th Birthday Spin.
The harvest, high school football, and the changing colors of Indiana's lush foliage – it's time for fall in our home
state. Here's what fall 2016 brings for Indianapolis's 200th birthday celebration.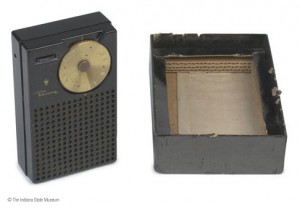 EXTRA: As you're checking out Indiana in 200 Objects at the Indiana State Museum…did you know that the first
transistor radio has Indiana roots? It's true! Regency Electronics, at 7900 Pendleton Pike on Indianapolis' east side, collaborated with Texas Instruments to build the world's first portable electronic device – the 1954 transistor radio.
The Indianapolis Star notes the important timing of the Indy-based invention. "The TR-1, as the first transistor radio was known, was 5 inches high, shorter than your smartphone, though fatter. It landed just as rock 'n' roll was landing. Elvis Presley recorded his first single, 'That's All Right', in July 1954."
It signaled a time of new electronic freedom and portability, even at its high cost. (At $59.95 in 1954, that's the equivalent of a $500 device today.) Regency rode the success of its invention for a little while. But the transistor radio business ultimately succumbed to a new competitor in the market, a Japanese company that had recently changed its name to be more appealing to Americans: Sony.
See the TR-1 at the Indiana State Museum through January 2017.
Explore the Indiana Bicentennial Celebration's events calendar and keep up with Indiana Bicentennial events on Facebook and Twitter.