Events All Year, Many Festivals & Installations Kicking Off Now.
Answers to Hoosier State trivia from prior BiCentennial theme post are: 1) Corydon 2) Indiana, Illinois, Michigan, Wisconsin 3) Patoka 4) Ohio 5) "The Crossroads of America" 6) peony 7) cardinal 8) seven 9) a buffalo 10) Angel Mounds.  For review of questions, click here.
On Dec. 11, 1816, President James Madison signed a congressional resolution to admit Indiana as the nation's 19th state. Thus, Indiana officially celebrates its 200th birthday on December 11th, 2016.
But much like the Indianapolis 500 really is about the entire month of May and not just the Sunday of Memorial Day weekend, Indiana's Bicentennial Celebration is a year-long event!
Here are a few highlights from central Indiana in the upcoming months: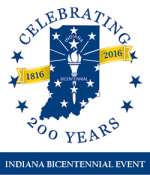 Among Indiana's 92 counties, there are a plethora of celebrations, small and large, throughout the year. Art and history abound, and most events are family-friendly! Explore the Indiana Bicentennial Celebration's events calendar.