Don't Drop the Ball! Indiana Celebrates the New Year In Unique Ways.
Ringing in the new year is a time-honored tradition. Many of us will head out to share in the revelry with family and friends, often in a large public gathering.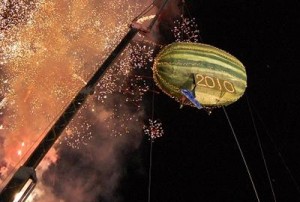 While New York's famous ball drop in Times Square is the most recognizable symbol of public New Year's Eve celebrations, Indiana likes to do things a little bit differently. (Except for Kokomo and Muncie, who do host ball drop parties.)
Making Tripadvisor's 10 Quirkiest New Year's Eve Celebrations in America list is the Vincennes Watermelon Drop – and rightfully so. Just before midnight, festival planners hoist an 18-foot, 500-pound steel-and-foam watermelon into the air. Once the clock strikes midnight, 15 Knox County-grown watermelons – to celebrate the year 2015 – will plunge 100 feet onto the "splatform" to kick off the party and fireworks celebration.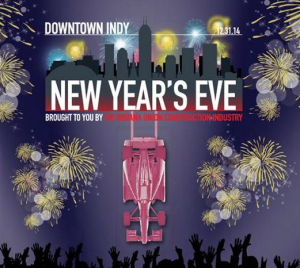 Not to be outdone, Indianapolis plans a drop of its own – though this one will result in a gentle touch, thankfully. Hosted by Downtown Indy on the Georgia Street promenade, Downtown Indy's New Year's Eve Celebration brought to you by The Indiana Union Construction Industry features a full-sized IndyCar hoisted into the air, descending with the year end countdown. The party lasts all evening, with bands and DJs from 5pm on and fireworks at midnight. The Bankers Life Fieldhouse entry pavilion will be open with family friendly activities throughout the evening.
Hopefully you've got some good food planned for New Year's Day, as Indiana families gather for meals on the first day of 2015. Many Hoosiers follow a strong southern US tradition by serving dishes with black eyed peas – considered good luck for prosperity in the new year. And though there are no "official" traditions to note, cabbage seem to be a popular New Year's dish amongst Indiana's greatest cooks – moms and grandmothers.
Enjoy the rest of 2014, and happy new year!