January 7, 2015
Unknown, Except To Emphasize It's All About The Content – No Matter The Channel, Medium Or Platform.

In response to Indianapolis' first major network TV affiliation change since 1979, which took effect last week, University of Indianapolis communications instructor Scott Uecker said "Viewers and advertisers in this market… will be available that haven't been up for grabs in a very, very long time."
Questions abound, like:
Can this market support five (5) local television news operations?
Is WTTV-4's over-the-air signal – emanating from Trafalgar, 25 miles south of Indy – strong enough for the entire DMA to merit CBS' heavyweight programming?
And probably biggest of all… Why did this happen?
"It's the content, stupid" is what James Carville would likely answer to these questions.  Because at the heart of the switch of CBS away from a 58-year relationship to a former independent station is the value of compelling, original content no matter the delivery system.
CBS, the network that delivers some of America's most watched television, was raising its program fees charged to affiliates like Indianapolis' WISH-TV.  Channel 8's then owner Lin Media balked at the increase in negotiations with CBS and eventually set a new course as a CW Network – one offering zero national news or sports programming – affiliate.
For Hoosier viewers there will still be a lot of issues ahead, and likely confusion.  WISH is increasing its local news coverage with much the same current staff, but WTTV is launching a local news team filled with several former Channel 8 faces.  Plus, expect cable & satellite providers to threaten to throw one or both stations off their systems; they will question higher retransmission fees WTTV owner Tribune Broadcasting will probably look to get for Channel 4, and seek to make lower payments to General Media, WISH's new owners.
But do CBS viewers of "The Big Bang Theory", "60 Minutes", NFL games and the NCAA Final Four care what channel – or even what distribution method – they get to watch their favorite programming?  In most cases, no; just so long as they get them free or with minimal out-of-pocket cost.  Ditto for any loyal followers of WISH's expanded local newscasts.
And most importantly ditto for advertisers!  Businesses don't give a hooey about what channel, or even what medium, so long as they get results.  Sponsors are looking for a return on their marketing investment – period.  And advertisers will get the best results when aligning themselves with compelling, original content no matter the delivery system.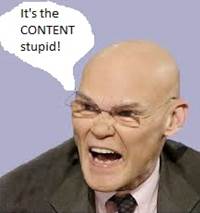 So whenever there's a frenzy stirred up – like this week's CBS to TTV4 fervor – with talk about what is the best channel, medium or platform, remember what was reinforced about the value of content generation – and radio's excellence at it, FWIW – at this site in a recent blog post that analyzed in-depth a look at American media, and sports, in the last 60 years… which is a nicer way of saying it than James Carville likely would.