Company's Inside Access To Music Industry's Rising Stars Is Exciting For Listeners
As we've noted previously, Emmis Communications has been on the forefront of new technology and new business practices outside of just creating great on-air content. But the most visible element of the robust media company that Emmis has become is its concert production business.
That's right, production – not just promotion.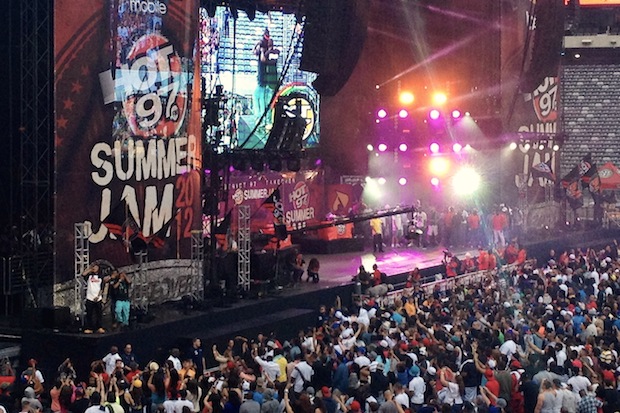 In many cases, Emmis concert producers are the cutting-edge tastemakers with inside access to the rising stars of the music industry, not limiting itself to responsively promoting the current top artists. New revenue streams, sponsorship opportunities, and connection between artists and listeners make this side of Emmis's business an exciting one. Here are four examples of Emmis flexing its concert production prowess:
New York – Hot 97 Summer Jam, which just last month celebrated its 21st anniversary, is famous for its place in the ever-changing and often dramatic world of hip-hop. As noted by Rolling Stone, Summer Jam "is as notable for its labyrinthine backstory, beefs and drama as its legendary performances, always peppered with surprise guests." It's transcended the concert arena – no small feat in a market like New York – and embedded itself in pop culture and Hollywood gossip circles as well.

Indianapolis – Hank-FM packed Bankers Life Fieldhouse for the AAA Insurance Monumental Music Jam in February, featuring hot country artists Thomas Rhett, The Cadillac Three, and Florida Georgia Line. This was the first Monumental Music Jam – but stay tuned for more Hank-FM-produced concerts this fall and a continuation of the series next year.
Austin – In a city known for its discerning music tastes and taking its live music very seriously, 93.3 KGSR's Blues on the Green concert series has been an overwhelming success. KGSR, a pioneer of the "Album Adult Alternative" format, hosts and produces a free concert each Wednesday throughout the summer, featuring artists on the rise. Now, Blues on the Green is a "quintessential Austin experience" for locals and visitors alike, inspiring traditions, dedication, and a place amongst Austin's best music showcases.
Los Angeles – Power 106, the west coast counterpart to New York's Hot 97, produces the late spring Powerhouse concert as well as winter's Cali Christmas show – again, showcasing up-and-coming artists as well as stadium-packing superstars, all with a west-coast flair.
The longevity of these concerts, the reception from fans and listeners, and the place in popular culture that they've carved out again show that Emmis is not just a radio company. It's a media company with a finger on the pulse of the present and an eye on the future of the industry.