Northside Neighborhood Redevelopments — A Reinvestment Or Risk?
Though "Midtown" in Indianapolis conjures up images of Meridian-Kessler mansions and rows of trendy shops amongst hip Broad Ripple bungalows, the defined area, from Fall Creek north to Broad Ripple, has several spots of blight and crime, including a vibrant retail and night club area that experienced a recent late night shooting over 4th of July weekend. New development from the city and private businesses aim to fix this, though, in a roundabout but unique way.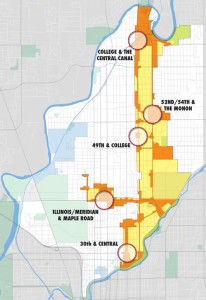 The recent passage of Proposal 77 (read the entire proposal) allowed city planners to leverage a single Tax Increment Financing (TIF) bond to support development in two separate but nearby areas: Tarkington Park, near 38th and Illinois, and along the Broad Ripple canal near College Ave. and 64th Street. The unique element was that the $1.5-$2 million bond to improve Tarkington Park was tied to the larger $5.7 million bond for the Broad Ripple canal project, totaling nearly $7.7 million in funds. A single bond used to develop separate sites has been considered forward-thinking by those involved in the project.
The large and most visible part of these improvements is the 1.9 acre mixed-use development near the Central Canal in Broad Ripple, zoned for a 35,000 square foot retail space, a 4-story parking garage (which could help alleviate growing pains that Radio Indiana has profiled before), and 119 new apartments. This would replace an abandoned gas station and a few older apartment units.
In addition to turning Tarkington Park into a state-of-the-art destination park, businesses along Illinois Street at the western border of the park will receive Community Development Block Grant funds to spruce up exteriors. Neighbors note that while the park is a cornerstone of the community and borders high-end homes in the Butler-Tarkington neighborhood, vacant lots, drugs, and gangs are all too close.
The project hasn't been without its bumps, though: concerns about the large retail space, earmarked for a Whole Foods, trampling local businesses like Good Earth Natural Foods, have echoed throughout the process and are even delaying development.
Smaller development, much of it spurred by private business with help from Midtown Indianapolis Inc., has begun to take shape in other areas of Midtown Indy.  The Indianapolis Star profiled these development areas (38th and Illinois streets; 38th and College Avenue; Central Avenue, from 30th to 34th Street; Broad Ripple Avenue at the Indianapolis Water Co. Canal; and the Winthrop corridor), noting the geographic strategy of improving small pockets which will expand naturally over time.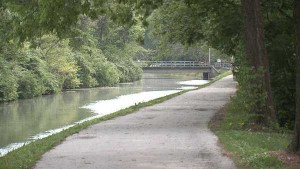 "There are spots that have been underdeveloped or underemployed for a long time, that just sat there, and crime has grown up around them," said Michael McKillip, executive director of Midtown Indianapolis Inc.  "This is a strategy to go at them in a systematic way. We look at these areas as catalysts for more change."
Mapleton-Fall Creek, which is also part of the Midtown development area, sees some of the highest crime rates in the city. Improving the quality of living in high-crime areas has been a key focus of city leaders to rid the area of crime.  "The city and IMPD have stressed improving economic and social conditions in the city's trouble spots and have enlisted all city agencies and community organizations in the effort," says John Tuohy of the Indianapolis Star.
Will all of Midtown Indianapolis regain its mojo for visitors and residents?  The overall hope is that the entire Midtown district will expand on the vibrancy of Broad Ripple and the high quality-of-life of Butler-Tarkington and Meridian-Kessler.