Indiana High School Boys Basketball, A Staple Through The Years
Pure spirit, pure sport… Hoosier Hysteria, the state's high school
boys basketball tournament, has been on the radio longer than THE FAN has been in existence, but the 1070-AM frequency has been part of it many times through the years and will be again this Saturday as the producer and flagship station of the IHSAA Champions Radio Network.
First, some history on the sport – an annual cultural event, really – that has significantly formed the identity of our state and how radio was such an important part of spreading the fever!
Long before the Pacers and the NBA, high school basketball has been a part of Indiana life since the late 19th Century.
The first statewide championship tournament was 103 years ago.
In the 1910s, some towns offered basketball by telephone wire.  A reporter would be at the game as it was being played talking with an announcer back at a local theater, who would then convey both descriptions and scores to the assembled crowd.  (In December 1920, the Franklin Evening Star described an evening with this primitive version of play-by-play "almost as thrilling as watching the real game" between teams from Franklin and Martinsville.)

Butler 'Hinkle' Fieldhouse in 1928

During the Roaring '20s, the Indiana High School Athletic Association and local businessmen collaborated to finance the construction of the largest basketball gymnasium in the country with a capacity of 15,000 fans to host the state tournament finals; Butler Fieldhouse (now called Hinkle Fieldhouse) was completed in 1928 and every state final sold out for the next 60 years.

By the Great Depression, the new invention of radio regularly began broadcasting high school basketball games as station owners discovered it would draw large audiences and advertisers.
1070-AM, like many of these stations, would break away from regular programming to carry these civic events.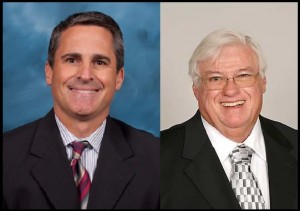 Within the last generation broadcasting legends like Bob Lamey, Chris Denari, Vince Welch and Jerry Baker have been the classic voices to deliver the finals across the 1070 airwaves.
Since THE FAN debuted on 1070 six years ago, it has steadily increased its commitment to high school football and basketball.  All of the 1070 regular weekday day time hosts make high school sports a frequent part of their conversation.  Then coverage was buoyed by THE FAN's addition of broadcasting on 107.5-FM last year.
 "Indiana Sports Talk" with Bob Lovell, now in its 20th year on air, could be guaranteed a place to air if there was a conflict with the Pacers or IU or Butler basketball.
A game-of-the-week announced by Matt Taylor could consistently be aired for the same reason.
Plan to tune in to THE FAN Saturday as Hoosier Hysteria will be on for nearly 12 straight hours.