Trivia, Happenings and Homage To H.S. Hoops
It's been a rough year for Indiana college basketball teams – not a single in-state school made the men's Division 1 NCAA tournament.  But let's turn to Indiana's old standby: the IHSAA basketball tournament.
Happening Now
The 104th annual Indiana high school boys basketball tournament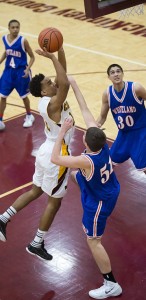 is well underway, with semi-states taking place this weekend (Saturday, March 22) at various sites throughout the state.  The grand finale – the state championship games – tips off on March 29th at Bankers Life Fieldhouse in downtown Indianapolis.
The 39th annual girls' tournament finished on March 8, with Oregon-Davis (A), Heritage Christian (2A), Western (3A), and Bedford North Lawrence (4A) taking the titles in their respective classes.
As always, catch this year's IHSAA tournament coverage of ESPN 1070/107.5 THE FAN, with championship game broadcasts as well as news and scores from Coach Bob Lovell, the definitive source for Indiana high school sports and host of Indiana Sports Talk (Friday & Saturday nights, 9:30-midnight)
Pay Homage
It's an assertion that's tough to argue: nowhere else in the country cares more about its high school basketball than Indiana.
And nowhere else in the state showcases Indiana high school basketball history like the Indiana Basketball Hall of Fame in New Castle, IN.
Honoring legends of high school basketball and their further success, long-time coaches, and famous tournament games from the early rounds all the way through Butler (Hinkle) Fieldhouse, the Hall of Fame pays beautiful homage to our game.
Care to take part in the festivities and the evolution of the Hall?  The 53rd class of men's inductees will be honored with a banquet on March 26, followed by the women's induction on April 26.
Trivia
A bit of follow-up trivia from last year: high school basketball and Indiana University legend Steve Alford was previously noted for taking three different colleges to the NCAA tournament. This year, he adds his fourth with UCLA, where he follows the footsteps of another famous Hoosier: John Wooden.
For more Hoosier Hysteria commentary, facts, and trivia, visit past Radio-Indiana.com posts