1070-WIBC's Fred Heckman Negotiator Who Saved Lives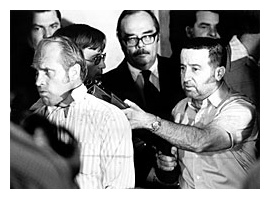 Tony Kiritsis was not an employee of 1070-WIBC, but he had a lot of air time on it 37 years ago this week.  Much of it was profane.
Fred Heckman was the station's News Director.  And because of his connection with Kiritsis, he is forever burnished as a Radio Legend who spared Hoosiers the trauma of what nearly was a gruesome murder & likely suicide.
1070-AM's Heckman teamed with FBI agents & other law enforcement to negotiate – on the airwaves – the safe release of a hostage.
Kiritsis had been holding his mortgage broker for 63 hours at gun point during the cold days of February 1977.  He held the entire metro hostage, too, via the media.
Once he'd wired a sawed-off shotgun to his intended victim, Kiritsis actually called the police to make sure he got public attention and then paraded his hostage around downtown with local TV news crews capturing much of the scene.  Kiritsis then drove with the hostage to his west side apartment complex and the media frenzy ensued.
National news outlets descended upon 'Naptown' creating an overload of coverage & speculation.  Not all of it accurate, and that upset Kiritsis and those who knew him.  So a panicked, desperate Kiritsis wanted to tell his side to the public and he reached out to the most trusted newsman in Indianapolis.
Heckman & WIBC decided to replay on air that taped conversation to demonstrate to Kiritsis a sincere effort to diffuse the situation.  What ended up happening was trust was built up between Kiritsis & Heckman, and suddenly the WIBC newsman went from covering the story to being part of it… and after another tense day, Kiritsis called Heckman again and once more WIBC re-broadcast their chat.
Heckman was stunning in these moments.  Sure, his professional poise was evident; but equally as noticeable – and a sign broadcasting greatness – was Heckman's recognition of the humanity of the entire situation, and not just the hostage.  Heckman treated Kiritsis with respect leading Kiritsis to bare his feelings.
Such human decency is a far cry from the demeaning or derisive behavior often displayed on many "reality shows" & talk shows & blogs that litter the modern media landscape.  Heckman, who passed away in 2001, likely roles over in his grave at such current programming.
Considering all of WIBC's history through 75 years, the station's role in Kiritsis hostage situation may be the station's finest, proudest moment.