You Know You're Listening To Indianapolis When Tuned To 1070
Two current top area radio stations can claim association with the 50,000 watt 1070AM frequency, whether via history or modern times.  And while it is accurate to note that in October WIBC celebrated its anniversary of signing on the air, it is equally as accurate to acknowledge THE FAN's sixth birthday last week… and THE FAN has come a long way in a short time!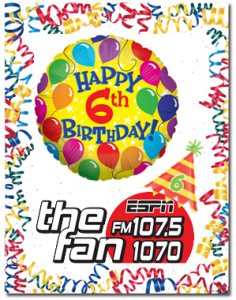 Back in 2008 when THE FAN signed on the air it drafted largely off the association of becoming Indy's ESPN affiliate and the heritage of the 1070 dial position (which for the better part of a generation was Indy's de facto sports radio leader due to carrying all the major local play-by-play).  There was only one live locally produced weekday show – Kravitz & Eddie, which had fits and starts of success but never did get enough traction to avoid being cancelled after two years.  Arbitron ratings for the station overall were almost non-existent.
Today?  THE FAN is currently ranked #3 in Men 25-54.
Top 3!!  Amazing.  How did it get here?  By being local, and being relevant.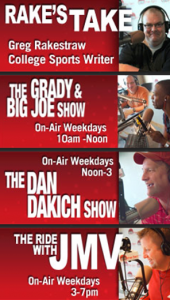 Now most of the time, within minutes, if not seconds, of tuning in 1070 you know you are listening to an Indianapolis radio station.  While that might sound like an elementary goal for a broadcaster, it is become increasingly rare in this age of music stations filling their programming with voice tracks and many talk stations reliant upon syndicated shows.
THE FAN features more locally produced content than any station in the market – a minimum of 8 prime time hours, plus local games and coaches shows — per weekday.
Naptown sports personalities like Grady & Big Joe, Dan Dakich, JMV and Greg Rakestraw break news and stir up conversation that gets Indy talking.
THE FAN is now one of the top places guys turn to for radio entertainment.  Quite an accomplishment after only a few years on air!
If you haven't tuned in to 1070 for awhile, you're in the minority – give it a listen.