CEO Says "We will oppose this kind of exclusionary approach any time, in any form it appears"
Emmis Communications has announced its public opposition to Indiana House Joint Resolution 6, a proposed amendment to the state constitution that would legally recognize only marriages between one man and one woman.  Additionally, it would alter the state constitution to not legally recognize "a legal status identical or substantially similar to that of marriage for unmarried individuals."
Read the full text at the Indiana General Assembly's website.
The marriage amendment, initially introduced in 2011, will be discussed in the 2014 legislative session.  If passed, it will appear as a ballot referendum in the November 2014 election.  The amendment can also be tabled or voted down during the legislative session.
Joining Freedom Indiana, the grassroots coalition opposing HJR-6, Emmis Communications Chairman and CEO Jeff Smulyan said he believes HJR-6 would be detrimental to existing and potential Indiana businesses by hindering the recruitment and retention of talented employees.
"Indiana has traditionally had a friendly business environment that is the backbone of the Hoosier economy," Smulyan said.  "This is two steps backward and runs counter to what businesses are demanding.  Regardless of age, gender or sexual orientation, Indiana needs to send a positive, welcoming message.  We will oppose this kind of exclusionary approach any time, in any form it appears."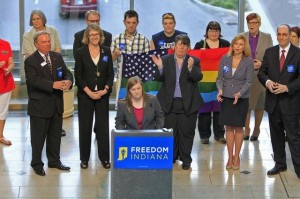 Emmis joins a list of companies, academic institutions, and organizations publicly speaking out against the bill. Notable public opponents include Indiana University, Purdue University, Butler University, Ball State University, Wabash College, DePauw University, Indiana State University, University of Indianapolis, University of Evansville, Hanover College, University of Southern Indiana, Eli Lilly & Co., Cummins, IU Health, Young & Laramore, the Indianapolis Chamber of Commerce, the Indianapolis City-County Council, mayors from dozens of Indiana cities, including Indianapolis mayor Greg Ballard, as well as religious leaders from the Christian Theological Seminary and the Interfaith Coalition on Non-Discrimination.
Supporters of the bill include the Indiana Family Institute, the Indiana Pastors Alliance, the Family Research Council, and Governor Mike Pence.
The Indiana General Assembly reconvened this week.  Debate on the proposed amendment will occur through spring as this will be one of the thorniest issues facing the Hoosier State in 2014.