Count On WIBC To Deliver A Huge Audience When Wintry Weather Hits Indy
For 75 years, Hoosiers have turned to WIBC when news happened that they absolutely needed to know.
Some of the news happenings where Central Indiana counted on WIBC were dramatic, such as September 11th or the Tony Kiritsis hostage crisis.
Many others, such as daily roadway traffic reports from legendary personality "Big John" Gillis, were more ordinary or routine.
But along with sports play-by-play, reports on BAD WEATHER has always been the top attraction for locals – especially those who aren't regular listeners, preferring music – to tune in to WIBC.
This point was reinforced last Christmas, when up to a foot of snow fell across Central Indiana.  As commuters took to the roads, they readjusted their radios off of their favorite station to hear what WIBC had to say (see graph) about the storm, road conditions, etc.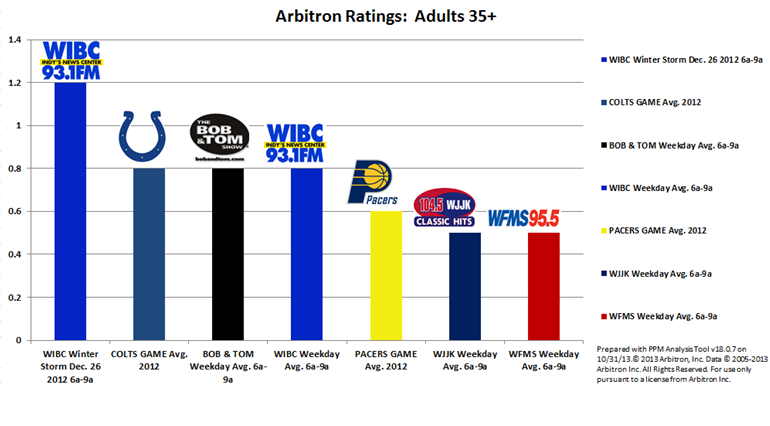 But what happened in 2012 was nothing new.
It recalled memories for Indy Adults 35+ of when "the blizzard of '78" paralyzed Indianapolis for two weeks with 10-plus-feet high drifts on streets and interstates.  Then Mayor Bill Hudnut turned to WIBC as the principal way to communicate with citizens.  The Mayor boarded a National Guard Armored tank with then WIBC morning show host Gary Todd and newsman Fred Heckman to first-hand investigate and report on situations, take listener phone calls and keep residents updated.
And even in less severe circumstances, GenX'ers and late-era-Baby-Boomers growing up in the Circle City – regardless of whether they liked rock 'n roll, country or adult contemporary songs – became 1070AM listeners to see if school was closed for the day due Mother Nature's wintry whims.
So when the Holidays and Old Man Winter approach now, remember WIBC as a good place to advertise to reach Hoosiers wanting severe weather updates.