Signing On 75 Years Ago With Only 1,000 Watts, 1070AM's Legend Began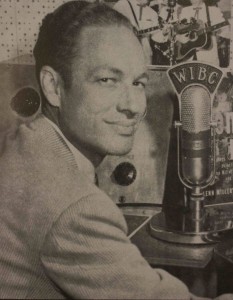 To generations of Hoosiers, it seems hard to fathom a time when there was no WIBC; no 1070AM.
While the station and dial position have grown to be part of the fabric of Indianapolis — so much so that there have been times you didn't say "Indianapolis" and not instantly also think of WIBC or 1070AM — it all began fairly humbly three-quarters of a century ago.  Below is a reprint of the Indianapolis Star from today in 1938.  (Modest beginnings, for sure!  Hey, everything has to start somewhere, right?)
Throughout the coming months, Radio-Indiana will occasionally reflect on significant moments in the history of WIBC and 1070AM.  For now, check out this timeline of station milestones and photo montage.
WIBC TO GO ON AIR TODAY; DEDICATORY PROGRAM AT 12
October 30, 1938
INDIANAPOLIS STAR
WIBC, Indianapolis's new radio station, goes on air for the first time at 8 o'clock this morning with a diversified program of entertainment.
There will be no commercials on the morning programs, no newscasts, no stock marketreports, no beauty hints, etc. The entire morning will be devoted to musical entertainment.
WIBC will be found in the middle of the dial on its assigned frequency of 1050 kilocycles, powered at 1,000 watts.
At 12 o'clock noon, WIBC will present its official dedicatory program.  A special program of concert gems has been arranged for the first hour, during which Glen VanAulen, local attorney and president of the Indiana Broadcasting Corporation, will introduce the honored guests.
C.A. McLaughlin, general manager of WIBC, will outline the station's policies, which will include the development of local talent in addition to special programs devoted to civic, educational and religious activities.
One of the station's features will be to bring new personalities before the microphone, offering them an opportunity to display their artistic ability.  McLaughlin says, "I have been pleasantly surprised by the vast amount of latent talent which auditions have uncovered in this community, but which heretofore has never been granted appearances on the air.  This will be possible because WIBC will have no outside affiliations or commitments.  The station will be operated solely for the convenience, education, entertainment and service of the listener.
"The station's program policy has been arranged to give the listeners the kind of entertainment they want when they want it.  For example, old-time music, popular music, concert music, dramatics, news, special features, educational programs, etc.—each will have its specific time daily.  In this way we hope to develop regular listening habits for those who enjoy only certain types of radio entertainment."