Hear How "Boom Baby" Started, And Why Pacers Legend Chose Radio Over TV
–Bobby "Slick" Leonard interview – a 5 minute conversation with an Indiana Hall Of Famer.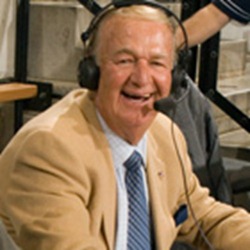 When the calendar turns past Halloween, it is official; basketball season is here.
And Indianapolis knows for certain hoops time has arrived when they hear "Boom Baby" bellowed through the radio speakers.
The Southern Indiana twang, now in its 24th season on air, of Pacers broadcaster Slick Leonard resonates with Hoosiers throughout Central Indiana (many of whom are transplants from area code 812).  He sat down recently with Radio Indiana to discuss various topics about his storied broadcast career.
Enjoy the listen.