Tip #3 on Using Radio-Indiana.com
May is here, and along with the rest of the city, we here at Emmis Indianapolis turn our collective heads to 16th and Georgetown for another exciting racing month.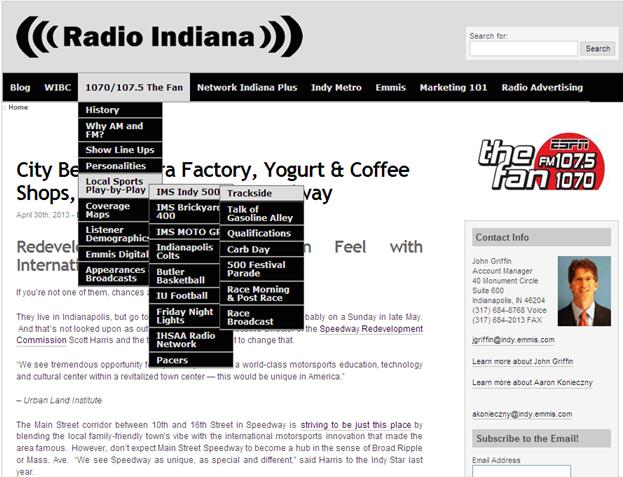 Of course, if you have any part in managing your company's advertising, it would be wise to brush up on the biggest radio event in the city.  But how big is it?  What does it sound like?  And we know the city focuses on racing for an entire month, so what about WIBC and 1070 The Fan?  These features of Radio-Indiana.com can answer your questions quickly and easily.
First, let's tackle the race itself – the main event.  That's readily available at 1070/107.5 The Fan > Local Sports Play-by-Play > IMS Indy 500 > Race Broadcast.  It includes:
A brief explanation of our simulcast (on 93.1 WIBC, 1070 The Fan, and 107.5 The Fan), a rundown of the race day crew, and some sample audio clips give you a sense of just how exciting the broadcast can be.  
And as an advertising buyer, what could be more exciting than the massive cume that the in-race broadcast pulls?  You'll find a handy chart at the bottom of the page. 
Pre and post-race coverage audio and show information is under the same menu at 1070/107.5 The Fan > Local Sports Play-by-Play > IMS Indy 500 > Race Morning & Post Race.  Longtime listeners and Indy residents will be familiar with the traffic coverage made famous by Big John Gillis.  
But outside of race day, what other opportunities are available?  Fortunately, there are many, and they're covered at Radio-Indiana.com.
The month kicks off with Kevin Lee and Curt Cavin's weekday broadcast of Trackside, which is followed by the daily broadcasts of The Talk of Gasoline Alley with Speedway Historian Donald Davidson, both available under the IMS Indy 500 menu.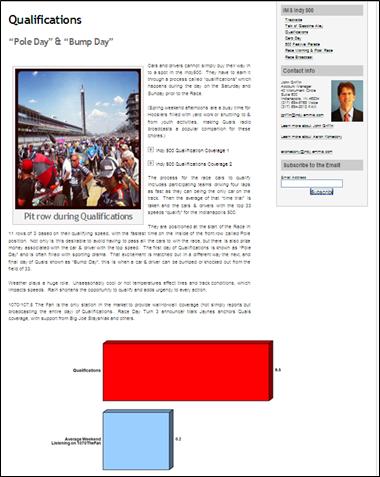 Qualifications coverage on 1070/107.5 The Fan garners some pretty big numbers.  Easily find out what the coverage sounds like with more audio clips and see how readily listeners tune in at 1070/107.5 The Fan > Local Sports Play-by-Play > IMS Indy 500 > Qualifications.  Same goes for festivities surrounding Carb Day coverage and the 500 Festival Parade – all accessible via the navigation bar at Radio-Indiana.com.
Also of note: the search box at the top right side of the screen will return results from pages and blog posts at Radio-Indiana.com – truly a multifaceted resource.
Ready to talk race packages?  Contact John Griffin.  As you know, that information is readily available on the home page of Radio-Indiana.com.