Redevelopment Blends Small-Town Feel with International Innovation
If you're not one of them, chances are you know a few. 
They live in Indianapolis, but go to the town of Speedway once a year.  Probably on a Sunday in late May.  And that's not looked upon as out of the ordinary.  But Executive Director of the Speedway Redevelopment Commission Scott Harris and the town of Speedway want to change that. 
"We see tremendous opportunity for Speedway to create a world-class motorsports education, technology and cultural center within a revitalized town center — this would be unique in America." 
– Urban Land Institute 
The Main Street corridor between 10th and 16th Street in Speedway is striving to be just this place by blending the local family-friendly town's vibe with the international motorsports innovation that made the area famous.  However, don't expect Main Street Speedway to become a hub in the sense of Broad Ripple or Mass. Ave.  "We see Speedway as unique, as special and different," said Harris to the Indy Star last year.  
Recently opened, the new 40,000 square foot Community Westview Health Pavilion looks to better fill the needs of the community and its surrounding neighborhoods on the west side.  Wider sidewalks, new infrastructure and sewer systems, and freshly redesigned streetlamps and benches are all "part of efforts to increase the overall quality of life for the residents of Speedway," says the Speedway Redevelopment Commission.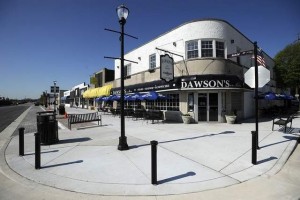 Even the newer casual dining spots like Dawson's on Main, Johnny Bueno's, and YoguLatte are there for the locals as much as visitors to Speedway from well outside the town of 12,500's borders. 
Befitting of the internationally-themed moniker "Racing Capital of the World" is Lino's Coffee, a mainly Italian coffee and sandwich chain. Main Street in Speedway houses its lone North American location, in the gleaming Dallara IndyCar factory.

Of course, while a large factory seems more like the "old" Speedway, rest assured: this is one plant that's not to be missed.  Inside its glass facade, tours, interactive demos and simulators, and yes, rides in the special 2-seater IndyCar make it an exciting fixture.
Sarah Fisher Hartman Racing recently moved in to their new facility as well, placing a local race team at a visible and ultra-convenient spot in the town of Speedway. 
Still, Harris expects a full development to take "years."  Have you visited the revitalized town center along Main Street?