Tip #2 on Using Radio-Indiana.com
Most of us have a boss we've got to answer to.  And if you're in the discovery stage of planning an advertising campaign and need quick, elementary info to get your boss on board with an idea, Radio-Indiana.com is a great resource!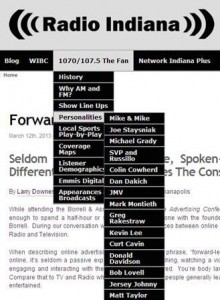 Take this scenario:  Let's say that Maria is the marketing director for a local home and garden store with several locations in the area.  In the weekly marketing meeting with her boss, they spoke about a radio campaign where they're involved with a station personality that their customers might like – Dick Crum and Pat Sullivan, and maybe a sports guy.  Additionally, her boss wants to make sure that the stores in outlying areas – say, Lebanon and Martinsville – are served by this advertising campaign.
Maria wants to get started, but doesn't want to a generic media kit with a lot of stats she doesn't need… and she doesn't want to wait to get anything! 
Thankfully, she can access much of what she needs herself – and do it any time she wants – at Radio-Indiana.com.
– First, she can gather links on the personalities. At Radio-India.com -> WIBC -> Personalities -> Dick Crum, Maria can quickly get a bio of WIBC weekend stalwart Dick Crum.
– Next, Maria copies the link at Radio-India.com -> WIBC -> Personalities -> Pat Sullivan – complete with sample airchecks of past endorsements that Pat's done for other clients – without even having to make a call.
– Exploring the weekday local lineup, Maria pulls the link for Radio-India.com -> 1070/107.5 The Fan -> Personalities -> JMV – complete with articles about JMV's connection to the local market.
– To further sell her initial idea to her boss, Maria also wants to present some additional information on the power of personality endorsements on talk radio. Last week's guest post by Emmis Marketing Group's Larry Downes notes how spoken-word radio and its personalities "keep listeners mentally leaning forward – engaging, not just listening."
– Last, to show the station's signals serve the Lebanon and Martinsville stores, Maria pulls the 93.1 WIBC coverage map. She can explain The Fan's two-signal network coverage with both maps at http://radio-indiana.com/1070-the-fan/coverage-maps/coverage-map/ and Radio-Indiana.com -> 1070/107.5 The Fan -> Coverage Maps -> 107.5 Coverage Map.
By spending just a few minutes on Radio-Indiana.com, Maria has created her own custom "media kit" with just the right preliminary information she needs – and without waiting to get it – to show her boss and receive the go-ahead to start crafting a specific campaign.  
Have you used Radio-Indiana.com in a similar way?
Are you ready to start customizing a campaign and need pricing and other specifics?  
Contact John Griffin.  Of course, that information is easily available on the home page of Radio-Indiana.com.