Local Host JMV Relates To His Peeps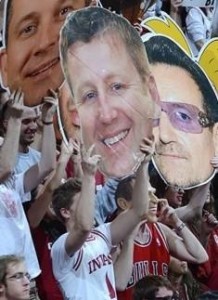 While the most recent format change has created a small stir in Indy's sports radio landscape, expect it to settle in to be just that – small.  Not waves of change, rather slight ripples that won't have a lasting impact.
Why?  Because weekday afternoon drive on 1430AM isn't local and live.  And in the sports talk genre, that's critical!
Sure some stations have found that audience sizes can remain similar, or even increase, with shows hosted by personalities that are not live or out-of-town; or both!  Nationwide syndicated personalities – like ESPN Radio's Mike & Mike, Rush Limbaugh and Sean Hannity – have long been mainstays on spoken-word formatted radio stations.   In recent years, automation has crept further into music stations with syndicated shows like Ryan Seacrest, Delilah or Bob & Tom, and with voice tracking by an disc jockey pre-recording an entire air shift.
But in the world of sports talk, afternoon drive is the defining day part for a station and LOCAL afternoon conversation is imperative as the founders of the format found out 25 years ago!  On the commute home, people generally want to unwind  and hear about teams & athletes in their community from someone they can relate to… and it's hard to relate to someone trying to appeal to the nation vs. your home town.
When the current market leader, WFNI-TheFan, first got in to the all-sports format, it learned the hard way… You've got to have the top local afternoon drive personality.
Despite the 50,000watt 1070TheFan growing in to a sports stalk powerhouse like few others in the nation – fueled by ESPN Radio affiliation, all of Indy's major local sports play by play and a budding star in middays with Dan Dakich –  5,000watt WNDE remained the afternoon drive sports leader in Indy with the popular show "The Ride With JMV".  Listeners related so well to host John Michael Vincent (a.k.a. JMV) and his Hoosier-sports-fan-hospitality/companionship that TheFan couldn't shake perception that it wasn't the top sports station because it wasn't the winner in the format's most critical day part.
But beginning in autumn '09, 1070TheFan finally took the afternoon drive sports talk lead; not coincidentally that was when JMV abruptly left 1260AM.  After a 6 month hiatus from local radio, JMV returned and this time to TheFan.  His entertaining delivery and overall ability to relate to listeners – along with breaking top local sports news stories – keeps his grip firmly and consistently atop Indy's sports fan audience during afternoon drive.
A few months after joining 1070, JMV sat down with IndyStar reporter Daniel Lee (eee below) and weighed in on wide variety of topics and explained why his show is so popular.   As the interviewer said, "you seem to appeal to that type of demographic" (the coveted Indy sports fan)!   It's apparent he was born to do exactly what he's doing now – hosting a sports talk show in Central Indiana.  Check it the entire interview!
Yes, JMV relates to his peeps.
JMV on Indystar.com's Biz Buzz, Spring '10