A Look Ahead To The Murat, and Back 2 Decades To The Courtroom With Garrison
JMV Mike Tyson Interview    "Iron Mike" Talks With 1070TheFan's JMV About Coming Back To Circle City.
Mike Tyson is returning to Indianapolis.  This time he'll be on stage, but 21 years this week he was on trial here.
Following a run on Broadway this past fall, the former heavyweight boxing champ will launch a 32-city tour of the one-man stage show "Mike Tyson: Undisputed Truth" on February 13 at Indy's 2,500-seat capacity venue the Murat Theatre.
Written by Kiki Tyson, the pugilist-turned-performer's third wife, and directed by his longtime friend Spike Lee, the rambling, roughly two-hour spectacle is equal parts stand-up routine, sentimental journey and self-pity party; and those ingredients are not always mixed smoothly.
Reflecting on a life and career that have taken him from the mean streets of Brooklyn, NY — where Tyson was, by his own account, arrested 30 times by the age of 12 — to the heights of stardom and the depths of disgrace, Tyson expresses humility and remorse for his mistakes, and gratitude for the second chances he has been given.
But he's not strong on specifics, except when assigning blame to others. Some of his sharpest verbal jabs, notably, are directed at women. 
Tyson served three years in an Indiana prison for the 1991 rape of a Miss Black America pageant contestant at the Canterbury Hotel downtown.  On February 10, 1992 a Marion County jury unanimously convicted Tyson of one count of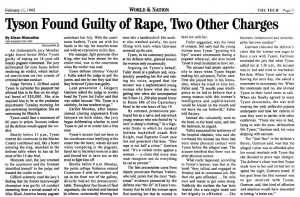 rape and two counts of criminal deviate conduct. Tyson served 3 years at the Indiana Youth Center, a high-medium security facility west of Indianapolis. 
Prosecutor – and now 93.1FM talk show host – Greg Garrison, who Sports Illustrated called "folksy and engaging", ran an expert case in contrast to high-profile defense attorney Vincent Fuller, who has been widely criticized for his approach to and actions during the trial. Cameras were allowed in the courtroom to broadcast the proceedings. The celebrity defendant drew interest and attention to the Marion County Superior Court's courtroom 4.  It was as close to a media circus as a trial could get.
The trial thrust Indianapolis into an interesting light. On one hand, the city was proud of its law enforcement and prosecution for their roles in the successful and unanimous jury conviction for a crime.  On the other hand, a crime as heinous and sensitive as date rape will forever carry the connotation of what happened in a downtown Indianapolis hotel room.  Date rape had not been as present in the national consciousness until arguably around that point – and this was the high-profile case that would place it more firmly in the nation's mind.
Garrison's active legal duties have slowed in the past two decades, though – much to the advantage of Indy radio listeners. The notoriety of the Tyson prosecution and Garrison's subsequent appearances as a legal analyst on CBS and other radio and television outlets led to his long-standing weekday 9am-Noon radio show Garrison.on WIBC. Greg Garrison still maintains a legal practice, Garrison Law Firm, with his brother Chris Garrison.
** Excerpts Taken from IndyStar and USA Today.