Capitol City Is Creating – And Coping With – Its Urban Identity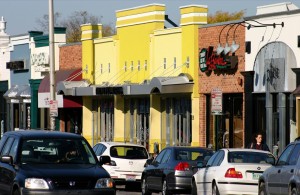 Indianapolis, long regarded as "Naptown," now is facing and embracing an urban revitalization.  One needs only to walk through the new Georgia Street corridor, between two gleaming sports stadiums and amidst new construction alongside classic streetscapes, to see that Indiana's capital city is serious about its urban identity.
Urban planners and local government have laid a blueprint – literally – for the Indianapolis of the next century. Erika D. Smith, of the Indianapolis Star, examined the unique opportunity presented to Indianapolis in her editorial "Indianapolis has opportunity to craft its own identity."  "The newness of the modern Indianapolis (yes, we're nearly 200 years old, but the rebirth of Indy in the past 40 years has made us young again) gives us an opportunity that few cities can still claim. That opportunity is to create an urban identity from the ground up. Indianapolis simply doesn't have the baggage of other major metropolitan areas in the country," she says.
Of course, most of the development and urban revitalization has been focused on the downtown area, as cities – Indianapolis included – condense in response to the sprawl of past years.  But Broad Ripple, always reflecting a denser, urban village atmosphere, has continued to grow where there is not a plethora of space.  A new parking garage and retail space at Broad Ripple and College Avenues signals a response to density and overcrowding not seen in most areas outside of downtown.   Zoning issues had long delayed and modified the proposal.  But a commitment to pedestrian and bicycle-friendly traffic flows and streetscapes have been a key priority in this and other projects around Broad Ripple.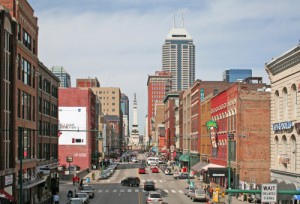 Shifting populations often create unused space and urban blight. It's easily seen in abandoned strip malls as business and residents have either moved further into new developments in outer suburbs, or shifted towards the fast-moving downtown development. But these openings create opportunities for local businesses, often owned by immigrants whose families have settled in the area. New York Times writer John T. Edge examined the diversification of Indy's mid-city and suburban neighborhoods – centered around ethnic cuisine – in a feature piece last year. Ethnic restaurants are now "de-facto anchor tenants" in buildings once anchored by department stores. "This happened slowly," said David Eskenazi, president of Sandor, which owns a strip mall near 38th and Moller. "But we were happy to lease to a diversity of tenants. We didn't recruit these businesses. They found us and each other," said Mr. Eskenazi.
Still, Indy has work to do on defining its future. As Erika D. Smith noted, a relatively small number of people attended the recent We Are City Summit – not enough to truly engage what Nigel Jacob, of Boston's Office of New Urban Mechanics, calls "participatory urbanism." "Indianapolis has a unique opportunity for a city of its size to craft its modern identity. Let's not waste it," says Smith.