Indianapolis' Charlie Morgan Named Market Manager of the Year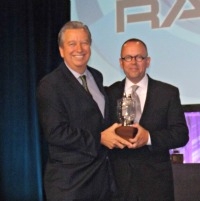 In only his third year at the helm of Emmis Indianapolis (93.1 WIBC, 97.1 HANK-FM, 1070 The Fan, B105.7, and the headquarters of Network Indiana), market manager Charlie Morgan has won the prestigious Radio Wayne Award for Best Market Manager by Radio Ink magazine.  Now in its 20th year, the Radio Wayne awards are named after Wayne Cornils, a long-time radio veteran who passed away in 2000. Radio Ink said Cornlis was "the definition of professionalism, setting a standard that separated him from the pack."  Presented by Radio Ink publisher Eric Rhoads at the Radio Show in Dallas, Morgan topped market managers from Washington DC, Philadelphia, Norfolk-Virginia Beach, and Washington state's Tri-Cities area to achieve the top honor.
Morgan joined Emmis Indianapolis in 2009 after a two-year stint as president and chief operating officer of the Indianapolis Motor Speedway Productions and Radio Network.  Prior to that, he was VP and market manager of the Susquehanna (WFMS/WJJK/WISG, now owned by Cumulus Media) radio group from 2000-2007.
"Charlie is widely regarded as one of the best managers in radio," said Patrick Walsh, Chief Operating Officer and Chief Financial Officer of Emmis about hiring Morgan.  "Charlie's leadership, experience and management style is perfectly suited for Emmis Indianapolis."
"The right people on the bus and in the right seats – with apologies to Jim Collins [of 'Good to Great' fame]," Morgan says about his management style.  "Do that well, and everything else gets much easier. Subscribe to Robert Greenleaf's 'Servant Leadership' philosophy, which says…that the real test of a leader is whether those served grow as persons.  If you combine Greenleaf's 'servant first' approach with Jim Collins' 'Good to Great' theories, you have a pretty good snapshot of the principles that guide my management style," says Morgan.
What's that mean for you?  Just that any time you're doing business with Emmis Indianapolis, you're dealing with one of the most respected management team in the country.