Candidate Octoberfest = Final Push For Voters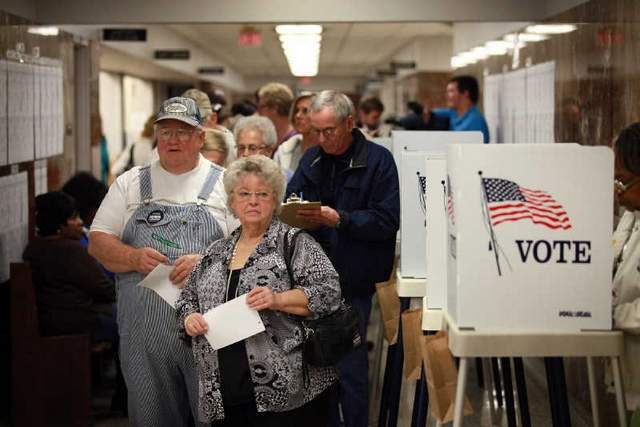 On Tuesday, November 6th, central Indiana and the rest of the country heads to the polls for the 2012 general election.
The most notable race for Hoosiers – outside of the presidential election – is the race for Governor of Indiana. Current 6th district U.S. Congressman Mike Pence aims to fill the seat of fellow Republican Mitch Daniels, who will take over as President of Purdue University following his term as governor. Former Speaker of the Indiana House John Gregg won the Democratic nomination unopposed. Survivor contestant and philanthropist Rupert Boneham heads the Libertarian ticket.
Both candidates have taken the state's economy as the top issue. Pence has presented a detailed Roadmap for Indiana and tied his socially conservative stance to economic development. Gregg – with his unique mustache-based campaign signs – has promised to work with the General Assembly and State Senate to create economic incentives for manufacturing and small business throughout the state and invest in infrastructure.
Notably, both Gregg and Pence previously hosted radio shows on WIBC: Gregg with Saturday Morning Open Phones, and Pence with The Mike Pence Show, syndicated on select Network Indiana stations.
Also on the mind of Hoosiers is the race for US Senate. State Treasurer Richard Mourdock, after unseeding longtime Republican Senator Richard Lugar in the Republican primary, takes on Democratic nominee Joe Donnelly, currently a U.S. Congressman representing Indiana's 2nd district. The primary alone came as a shock to many, considering Lugar's standing in the Senate. The candidates signal a shift to the right in state politics, as Donnelly is a rather moderate Democrat and Mourdock comes with heavy Tea Party national backing.
The November 6th general election is a big one for Indiana – all nine U.S. Congressional seats are up for election, as are all 100 Indiana General Assembly seats and 25 of 50 State Senate seats. With education as a hot button issue across the country, it's no surprise that even the State Superintendent race is making noise. Incumbent Tony Bennett is up against first-time political nominee Glenda Ritz, a Carmel resident and teacher at Crooked Creek Elementary School in Washington Township. Ritz, with 33 years as a teacher, has pointed to the huge campaign coffer and high-profile out-of-state donors as a red flag for those opposed to charter and voucher programs. The Bennett campaign has maintained that this is merely a reflection of positive policy work.
October 9th is the last day to register to vote in the 2012 general election. Of course, catch up on all the latest political news on 93.1 WIBC.
*Photo courtesy of Gannett Co.